Full Review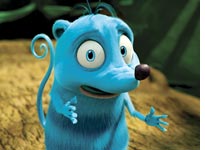 A person is a person no matter how annoying.  Apparently, anti-abortion activists have glommed to Horton Hears a Who as a film that champions "life." Slate's Kim Masters on the case:
It's Fun To Have Fun: Your Hollywoodland correspondent attended the glamorous premiere of Horton Hears a Who! last Saturday and was present when protesters started yelling shortly after Horton uttered his famous motto: "A person's a person, no matter how small."

We could not understand what was being shouted and thought perhaps that Seth Rogen or one of the other many vocal talents in the film was expressing love for Dr. Seuss' elephant and his signature line. But as you may have read elsewhere, anti-abortion activists had infiltrated the theater. Afterward, they handed out fliers designed to look like tickets.

None of this sat well with Audrey Geisel, widow of Dr. Seuss (Theodor Geisel), who attended the screening. So did Karl ZoBell, the lawyer who represents her and who has represented the interests of Dr. Seuss for some 40 years. In an interview with NPR, he said he couldn't make out the yelling and thought maybe "some nut" was in the theater. Later, he asked the protesters what group they represented, and none would answer. Their silence didn't seem like an accident to him, which makes sense, because ZoBell has not been bashful about sending cease-and-desist letters to those who appropriate Dr. Seuss' material for their own purposes. And many do. (According to ZoBell, politicians love to sling the term Grinch at their rivals.)
Anne Thompson points us to this new trailer from Studio Ghibli. Says Anne: "When Marnie Was There" is is adapted from the book by Joan Robinson, and tells the story of a young, lonely girl who makes a new friend in Marnie–who very well may be a ghost. Robinson's book is on the list of […]
Home actually has — brace yourselves — a black female in the lead. This is a beautifully risky endeavor for a genre that devotes itself almost entirely (give or take an hispanic tie-in here or there) to white folk. Rihanna voices the lead, Jim Parsons plays the sidekick. Hat tip to First Showing.
Thanks to Vulture who posted a pic with the following synopsis of what looks to be a female-driven plot for Pixar, the second in their history since Brave. Directed by Pete Docter, written by Michael Arndt (Little Miss Sunshine). Growing up can be a bumpy road, and it's no exception for Riley, who is uprooted […]