You know that moment when something you love becomes even better right before your very eyes? That happened this week for me during RuPaul's Drag Race. My love of Shakespeare (thanks, Mrs. Hudeck for instilling that in me in high school!) and drag queens joined forces in the weekly drag-tacular competition series.
When the girls get back to the Werk Room after Sasha Belle's elimination, we get the notion that Kennedy Davenport and Jasmine Masters do not like any of the younger queens. The word "bitch" is thrown around so much in 2 minutes that I thought I walked into my local Human Society. Kennedy and Jasmine like Miss Fame, Violet, Pearl and Trixie as much as drag queens like girl on girl porn. They complain that they are too young, and they all look alike. I mean…they aren't wrong about one thing in that sentence.
For the mini challenge, the queens have to do a Soul Train dance line…dressed as old ladies. You hear that, America's Got Talent? You have yodelers and tweeny dance groups, but RuPaul's Drag Race has a Golden Girls-themed dance off! Up your ante, rest of television! Max (who struts with a walker) and Kennedy win the challenge, and Jasmine dances with a loaf of bread—something that confuses RuPaul and the legion of gays watching at bars across the country. RuPaul then delivers the best news yet this season: the queens will perform in dueling Shakesqueer scenes. Max leads Ginger, Trixie, Kasha, Jaidynn, and Miss Fame in Romy & Juliet while Kennedy directs Jasmine, Katya, Pearl, Kandy, and Violet in Macbitch.
During the rehearsals, two things happen. For one, Max wears a Gloria Swanson turban, and everyone knows she's going to excel in this challenge. Secondly, Kennedy is an ineffective leader from the beginning, and even makes Jasmine and Violet switch roles at the last minute without rehearsing further. When it's time to perform in front of Ru and Michelle, Romy & Juliet goes over pretty well. As the two leads, Max and Ginger provide campy laughs. Jaidynn has a meltdown for no reason (when she says she isn't a performer, Michelle snaps back, "You're a drag queen. You're experienced in acting."), but Max is able to pull her back into the challenge.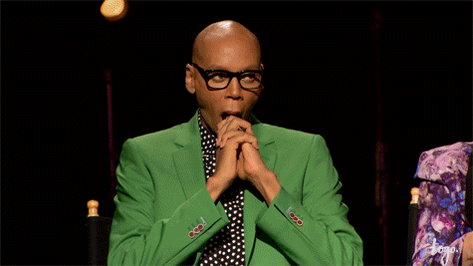 As for the other team…well…I've seen better Shakespearean productions in a park…during a rainstorm…in February. Macbitch is sort of American Horror Story: Drama Club with a storyline that resembles Bring It On fused with Mean Girls in Elizabethan costumes. It all goes to hell pretty quickly. Jasmine can't remember her lines. Pearl (as a the narrator/cheerleading coach) reads her lines in the same Ambien-induced dream state. Kennedy, as one of the witches, is about as compelling as the cauldron she's stirring. On an unrelated note, why are there only two hags chanting curses? I know there are a limited number of queens, but I demand an accurate adaptation, dammit!!! It's so bad that RuPaul asks Michelle, "what…is…happening…" before almost stopping the challenge altogether to tell them that "in seven seasons, I've never seen a car crash like this." Yeeeeesssshhh!!! Katya is the one saving grace (thanks for staying in character, girl), and Violet performs decently. That's the best compliment you'll get from me for now.
The runway look for this week is Bearded and Beautiful. You hear that sound? It's Milk screaming from a bar somewhere in West Hollywood. Ginger looks like she should have played Kathy Bates in Freak Show, and Katya walks down the runway in an Abe Lincoln-inspired look. Max walks away with her first win (and for being the tallest Juliet of all time), but RuPaul lays into Kennedy's team when they try to give excuses for their team sucking so much. It's very Tyra Banks flipping out on Tiffany on America's Next Top Model, so, you know, it works on many different levels. America's Got Talent judge Mel B (is it too late to retract what I wrote earlier) even says that Kennedy's runway dress was pretty darn fugly, but Jasmine faced the most criticism. The two besties land in the bottom two, and they lip sync to a Kylie Minogue song that doesn't have any relevance to the episode whatsoever.
Jasmine Masters sashays away, but is anyone actually sad to see her go?