HBO's Vinyl wasn't the hit everyone thought it would be. How will Emmy react?
I watched the pilot of HBO's Vinyl four times in order to completely understand it. Yes, you read that right. Four. Times.
The first time, I wondered if the whole episode was a fabrication in Richie's (Bobby Cannavale) coke-ridden head, especially since he survives a building collapse at the close of the bloated 2-hour premiere.
The second time, I mentally shut down when Zak (Ray Romano) started doing a line of coke off of a record (I mean, how impractical?).
The third time, I was confused by the musical interludes and transitions between scenes. As when a spirited singer plays the tambourine around a conference room or when there's a shot of a lighter and a crowd of people and the lighter torches the screen.
The fourth, and hopefully final time, I realized that not only does Richie survive a building collapse, but a friggin' chandelier falls on him as well.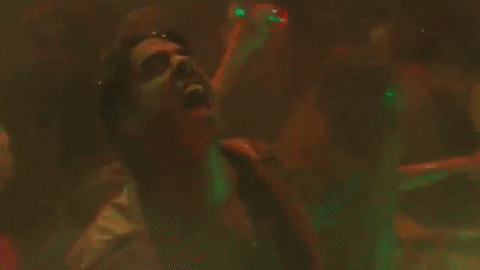 There's a lot going on on this show. Richie Finestra is trying to save his record company American Century while also trying to avoid being caught for the murder of Buck Rogers, played by Andrew Dice Clay (the scene of the crime is the funniest scene of 2016, hands down).
With names like Martin Scorsese, Mick Jagger, and Terrence Winter attached to it, Vinyl should be a huge hit for HBO. It even has a similar storyline to Mad Men, and you can tell the network had its fingers crossed for Richie Finestra to be the next Don Draper.
But I watched Mad Men. I loved Mad Men. Mad Men was a friend of mine. Vinyl, you're no Mad Men.
For one thing, unlike the AMC juggernaut, there are very few interesting female characters. Even though Juno Temple is this show's Peggy, she's pretty much reduced to a groupie to the Nasty Bits. Olivia Wilde plays Devon, the would-be Betty Draper/former Warhol muse, and isn't given much to do besides look pretty and leave her kids at a local diner.
The most interesting storyline on the show is that of Lester Grimes (Ato Essandoh), Richie's first client whose life he ruins when he doesn't take him with his new company. But even then, just one interesting thread can't make a show compelling.
So with all of the bad where is the Emmy consideration?
Aside from the possible tech nominations, two words: Bobby. Cannavale.
This is his show. As much of a mess as it is, the show would be nowhere near as watchable without him, even when he looks like he gets his hand stuck in the toaster after snorting a line. Emmy loves Bobby. He already has two of them (for Outstanding Guest Actor in a Comedy Series for Will & Grace in 2005 and Outstanding Supporting Actor in a Drama Series for Boardwalk Empire in 2013).
Is it possible HBO's Vinyl could give him a third?
Somebody drop a chandelier on me.
Guaranteed Nominations
Bobby Cannavale, Lead Actor
Probable Nominations
Main Title Design
Sound Editing
Sound Mixing
Hairstyling
Make-up
Costumes
Cinematography
Possible Nominations
Ray Romano, Supporting Actor
Art Direction
Editing
Casting