Do we actually have more to say about Trixie going home a second time? Not really. In the Werk Room, the girls tell Katya that they actually thought she was Russian on the first day. When someone asks if anyone else speaks any other languages, Pearl replies, "I can barely speak f*cking English."
How did I forget about this mini challenge?! By the time the contestants have dwindled down to 5, Ru allows for a good, old fashioned bitch fest. Each queen will drag up a puppet and make fun of one of their competitors. It's sort of like the library challenge, but it's cuddlier, shadier and brought to you by the Cabbage Patch Kids. When Ginger is dragging up her Violet puppet, she asks the shrinking-waist doll if she can borrow one of Violet's actual outfits, because they are virtually the same size ("Girl, I will learn to sew when you learn how to act, Violet," Ginger tells her).
When Kennedy displays a narcoleptic Pearl puppet, Pearl shows some hostility in the confessional: "These girls need some new material. I woke up a long time ago!" Katya accepts that Violet's Sesame Street version of her "looks just like me," but Ginger's gravelly version of Violet brings her closer to the crown. She's going to win, right? Nah. I'm holding out for Katya.
For the Maxi Challenge, Ru confuses the queens by telling them that they will be partnering with an $8 billion brand. And then a person dressed as Hello Kitty comes into the Werk Room, and it's both delightful and terrifying at the same time (at least for me). Their task is designing and creating a runway eleganza look made entirely out of Hello Kitty products, but the look must be original to each of their individual aesthetics. There's Hello Kitty backpacks, Hello Kitty throws, Hello Kitty pillows and mini umbrellas. Surely, if you look close enough, you can see Hello Kitty tampons and suppositories.
Ginger, Kennedy, and Katya (the self-proclaimed old lady brigade) seem to be having trouble since they don't sew, and they all hate design challenges. Quit your whining and get a hot glue gun, ladies! When guest judge Santino Rice (ugh…that guy…) comes walking around, Ginger shows him the one panel she has prepared. One. Panel. He advises her to synch her waist for a runway even though she isn't used to doing so. Katya admits that she has absolutely no idea what she's doing. Poor thing is sitting on a couch with a pair of Hello Kitty earmuffs on while she twiddles her thumbs. Ru tells her to just start on her outfit, and the inspiration will come. Unlike the older queens, this challenge is right up Violet's alley. She has already fashioned a circular headpiece that looks like it was brought to us by DirecTV, and Katya admits that she's jealous of Violet's confidence level.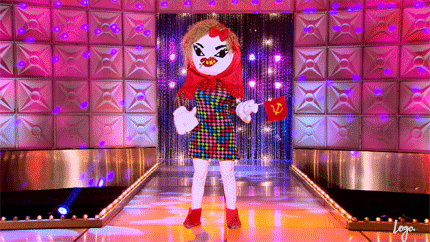 As soon as the girls think they are good with time, Ru tells them that in addition to their mainstage look, they will have to create a look for Hello Kitty's BFF. They will have to put together another outfit complete with Hello Kitty head. When they put those heads on, it's like gay, Hello Kitty kabuki theater. Before they can stomp the runway, they each present their BFF looks and spout of reasons why they'd be Kitty's newest chum. Pearl's look is a mixture of herself and Madonna circa 1992, complete with a gap between her front teeth. Katya managed to pull off the most irreverent look by posing as a chain-smoking, Siberian Hello Kitty-branded prostitute.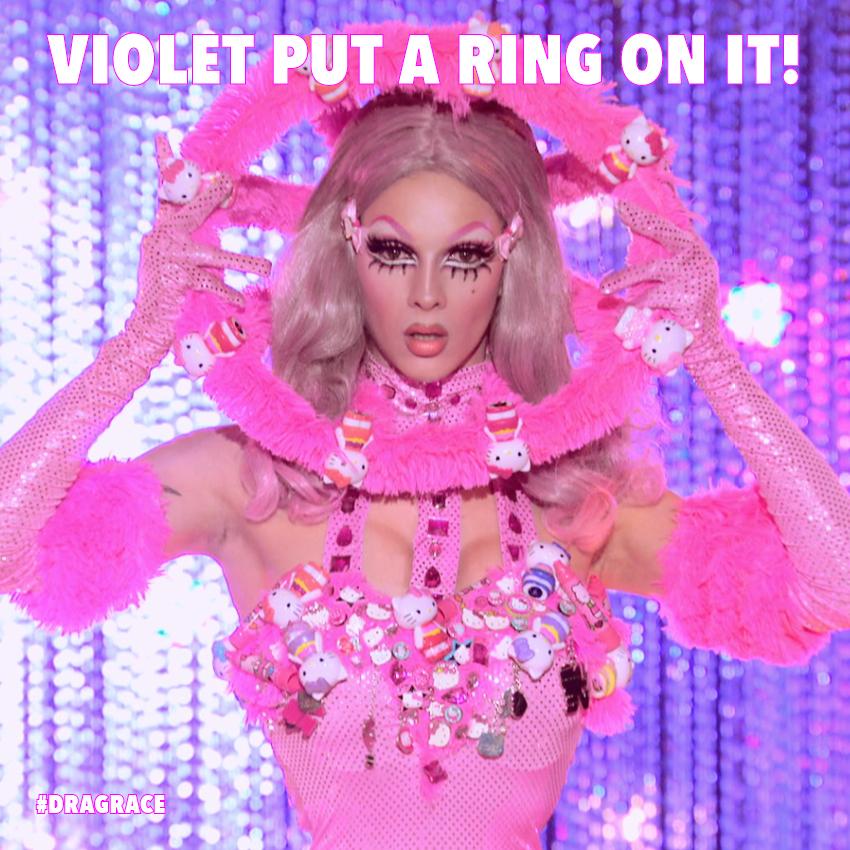 The runway looks divided this litter of judges. Violet won the most praise for her creativity and her ability to constantly change her silhouette, so it's no surprise that she won the challenge (I also dug that Max-tinted hair). The only judge that got Katya's main look was Rebecca Romijn. Everyone else scratched their heads to her Jane-Jetson-meets-Audrey-from-Little–Shop look, but everyone was unanimous for their distaste in both of Kennedy's outfit. Her Hello Kitty BFF had big blue painted nails and her runway look was…uh…not as visually appealing as my cat's little box. Rice tells his fellow panelists of her outfit, "you're going to mutilate a hundred Hello Kitty and just take off those bows?!"
Katya and Kennedy duke it out for a spot in the top four. I thought my girl Katya would be safe. She starts out lip synching to Katy Perry's "Roar" very sensually and internally, but Kennedy amps up the energy from the very beginning. She actually stretches before the battle starts, so we were all a bit worried. When Kennedy does a jumping split…off…the…stage…and lip synchs in front of the judges, I knew it was over. Katya does an admirable split on stage, but it wasn't enough. Kennedy is declared safe (deservedly so, but she shouldn't get too comfortable…), and my favorite queen from season seven is told to sashay away. I will now wear black for the remainder of the season.