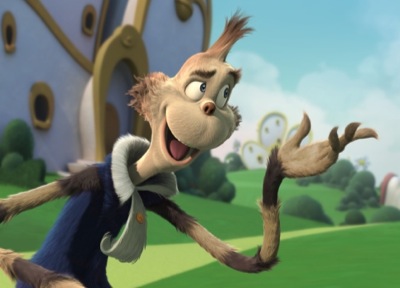 And it inspires a Seuss-like rhyme:
A story of Horton, and people called Who — but how many movies? It seems to be two! There's one that's quite Seussical, gentle and charming. The other stars Jim Carrey, brash and alarming! What auds will attend? Who has what it takes? Wee innocent children — and moms with headaches!
He also ponders the potential success of the star-packed film:
Despite the movie's motto — "A person's a person, no matter how small" (Geisel once sued a pro-life group to stop them from using it) — the film apparently needed such "comedy giants" (Fox's words) as Carrey, Steve Carell and Carol Burnett to do it justice. This is a touchy issue, and not just for the hundreds of vocal talents left unemployed by the craze for celebrity voiceovers; it's unclear whether such names really mean much in the way of B.O. for animated films. And while someone like Jerry Seinfeld was probably indispensable to "Bee Movie," it's hard to say what exactly Carrey, Carell and Burnett bring to "Horton."
Everybody needs to make a buck and all but Dr. Seuss is one I'd prefer they left alone.