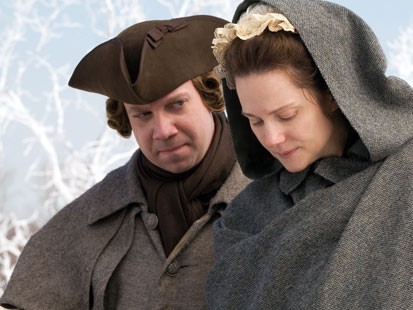 Okay, Laura Linney has won two Emmys – one for Leading Actress in a Mini-Series or Movie, and one for Guest Actor. However, she rarely been the toast of the town since You Can Count on Me. But her work in John Adams is going to get recognized in that very big way that often spills over into Oscar territory. This is probably because there comes a time in every actress' career when she just plain hits it. And Linney has hit it in a big way with John Adams. There, is that better?
Linney is most certainly going to be a major contender for Lead Actress in a Mini Series or Movie this year. She plays Mrs. Adams with complexity and depth, especially in the episode where she travels to Paris and must alternate between being shocked, impressed and confident. Linney has been great in almost everything she's ever done but I don't think I've ever seen her this good.
I'm going to make the call that Linney will win in this category and that John Adams will very likely sweep the Emmys. It's beautifully shot, and tells the story of how America was won in a raw and passionate way. Paul Giamatti might even win, who knows. The Emmys, to my mind, are often dull because they tend to pick the same shows over and over again. But the mini series category is interesting because of the proliferation of these magnificent productions that have been popping up recently. John Adams seems like it can't lose. You can buy that DVD here.