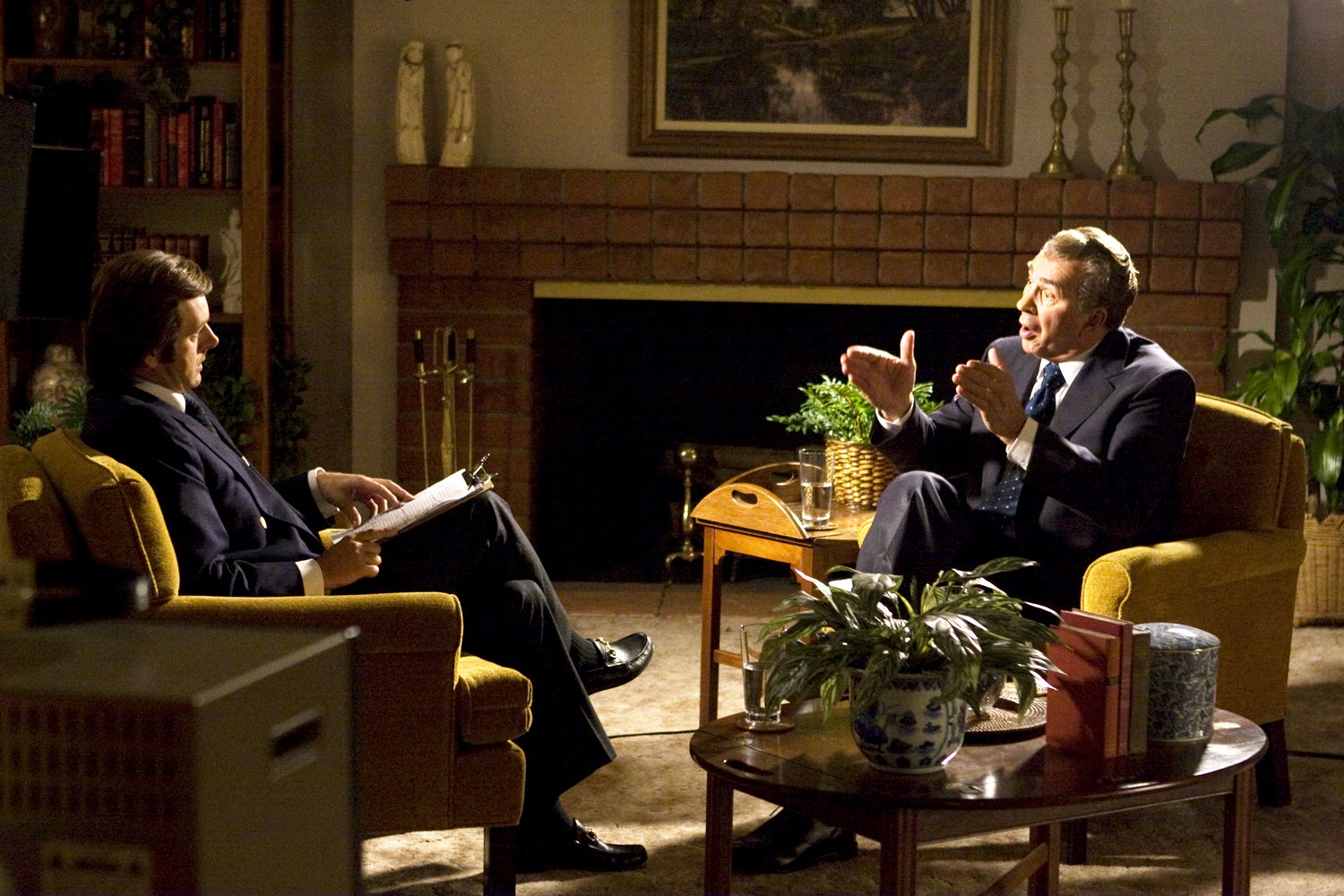 Kenneth Turan calls Frost/Nixon possibly the best film of Ron Howard's career. One has to wonder if the film isn't a sleeping giant and that it's possible for a surprise in this year's Best Pic race. The NY Times' Manohla Dargis was none too impressed, however (hers after the cut) Here is Turan:
Ron Howard is celebrating his 50th year in show business, and if you learn anything in that span, it's not to mess with a good thing. In "Frost/Nixon," the veteran director smoothly demonstrates the value of that attitude, taking a silk purse of a project, making it even silkier and producing perhaps the best work of his career in the process.
Writer Morgan singled out:
"Frost/Nixon," however, turns out to be formidably involving, and the reasons start not with expert costars Langella and Michael Sheen or their strong supporting cast or even the skills of Howard, but with the gifts and vision of Morgan, who wrote the screenplay as well as the play.
He closes it this way:
The result is involving, engrossing cinema — more thrilling, in fact, than Howard's "The Da Vinci Code" — filmmaking of a type rarely seen anymore and sorely missed.
Yeah, I know, Da Vinci Code, that's not saying much. But still, you have to appreciate an out and out rave.
Pete Travers on Langella:
Start with "magnificent" to describe Frank Langella's bone-deep performance as Nixon. It's one for the time capsule. What Langella does is less imitation than total immersion. He gets the man's cunning, paranoia, failed charm and inescapable sadness. It's clear that the Tony Award he won won't be the last prize Langella collects for this role of a lifetime.
Howard does his most ingenious directing to date by using the interviews as a way to peel back the layers that create a public image. As such, Nixon has never seemed more accountable or more shockingly exposed. Frost/Nixon, one of the year's best films, far exceeds its roots as docudrama. It cuts to the core of a toxic culture that sees politics as show business, a culture still all too recognizable as our own.
Manohla Dargis, though, sees it a bit differently – mostly impressed with the film she seems to zero in on Langella as a weakness:
And devour Mr. Langella does, chomp chomp. Artfully lighted and shot to
accentuate the character's trembling, affronted jowls, his shoulders
hunched, face bunched, he creeps along like a spider, alternately
retreating into the shadows and pouncing with a smile. That smile should
give you nightmares, but Mr. Howard, a competent craftsman who tends to
dim the lights in his movies even while brightening their themes ("A
Beautiful Mind"), has neither the skill nor the will to draw out a
dangerous performance from Mr. Langella, something to make your skin
crawl or heart leap. Unlike Oliver Stone, who invested Nixon (a
memorable Anthony Hopkins) with Shakespearean heft but refused to
sentimentalize him, this is a portrait designed to elicit a sniffy tear
or two along with a few statuettes.