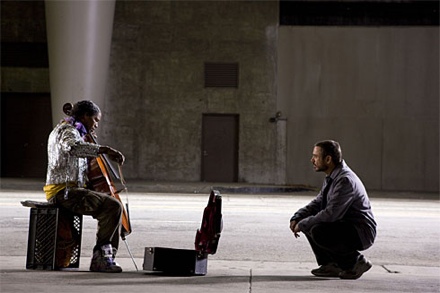 Although the film seems to be pretty good by her standards, the NY Times Manohla Dargis reserves her highest praise for Robert Downey, Jr., soon-to-be-dubbed Critics Darling of All Time. I'm starting to think Downey, Jr. could do an El Pollo Loco commercial and critics (the scant few who are left) would call it art. Not to say he isn't deserving – he is a great actor, no doubt about it. So maybe I should just shut the hell up.
Dargis says:
This isn't a milieu in which you might expect to find the British director Joe Wright, last seen exploring class and other catastrophes in "Atonement." Yet he fits fine with "The Soloist," perhaps because he brings an outsider's perspective to the material or is just accustomed to navigating the divide between the haves and have-nots.
Yeah, yeah, yeah but let's get to Robert Downey, Jr.:
But its commitment to the material feels honest, nowhere more so than in Mr. Downey's darkly shaded, nuanced performance, one that deepens this film with its insistence on the fundamental mysteries of human character.
But wait, there's more:
"The Soloist" wouldn't work half as well without Mr. Downey's astringent, bristly take on a man whose best intentions eventually collide with difficult truths. The actor is a wonder
It was smart of the studio to hold this film and not feed it to the beast called Oscar. With a review like this, which says Jamie Foxx seems "uncomfortable in the role," it would have been gobbled up and purged by the race for not being up to snuff. Remember how it started out the season?  Moreover, does this review put Downey, Jr. in THIS year's Oscar race? Or is it too little too late?
Thanks to David Carr's Twitter for the hat tip.
UPDATE: Oh, and the LA Times' Kenneth Turan trashed it.