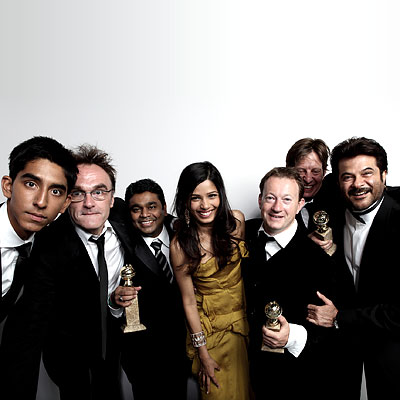 One of the reasons the Golden Globes has always been such a hot commodity in the Oscar race over the years is their tiny selection of contenders. True, only in the last ten years has the awards seasons swollen to include a vast array of other awards to compete with the Globes, but they were kind of the first to do what they do, which is offer up nominees condensed down to half the size of Oscar's categories. That makes their choices somewhat exclusive, and has given them a decent enough position over the last few decades to influence the Oscars, no matter who they are and what they do. However, in recent years, since AMPAS moved their date and put the awards calendar into operation chaos, the Globes have been a bit off. But I think that's due to the fact that between the Globes and the Oscars there are so many other stops that by the time Oscar rolls around, some of the winners don't feel like winners anymore. It's an odd thing, the perception of what makes a winner.
It feels like all bets are off these days with regard to every precursor except the good old trusty DGA.  It looks like we are in a year where Best Picture is wide open. All eyes will therefore be on Best Director, I suspect, being that there are only five nominees in that category, thus it will hold a kind of prestige over Best Picture that it didn't have before.  With ten Best Picture nominees, and five Best Director slots, we're looking at the potential for voters to judge films not on who directed them necessarily, but on which they liked the most. That is just a guess. There is no way to know until it all goes down.
In this way, there will be an odd similarity to the Globes, and the Critics Choice, for that matter, in so much as both groups have been choosing ten Best Pics and five directors for a while now. This is why it used to often be a better bet to look at the directing category in trying to suss out five Best Pic nominees from a list of ten. Obviously, things have changed. The Academy have the opportunity to choose ten on their own — and I have always believed it will yield some interesting choices. I think we know at least five of them already, without doubt. But the other five slots are still probablys and not definitelys.
The Golden Globes will announce their nominees Tuesday, December 15, at very early O'clock. I'm going to run down the categories attempt to predict them, starting today with Best Picture, Screenplay and Director. Later on today we'll do the acting categories, and then the writing categories — and finally, by Monday there should be a final list. You are invited to add yours. At any rate, you can't go wrong with Tom O'Neil's rundown he did back on December 5, which includes his predictions.
Last year, the Globes went for Benjamin Button, Frost/Nixon, The Reader, Revolutionary Road, and the eventual winner, Slumdog Millionaire. Only one was off – Rev Road, which was replaced by Milk. Usually one or two from the comedy/musical category will sneak into Oscar's Best Picture, but such was not the case last year. In fact, the Globes was one of the few groups to name The Reader ahead of its ultimate Best Picture nominee. That The Dark Knight did not make it here was a pretty good omen that it wasn't destined to be chosen by the Academy either.
The Globes, like the NBRs, like Oscar have a specific set of sensibilities, or have had in the past. Perhaps times are changing. They all three zero in on emotional films with historic or weepy plotlines, period pieces are always good. They don't much like to step outside their comfort zone for the Best Picture categories – directing, foreign, screenwriting tend to be a little more daring.
This year, Invictus and Up in the Air seem to be their cups of tea — I'll be curious about Avatar making the cut. Traditionally, the Globes folks don't go for the big budget sci-fi extravaganzas but there was a rumor floating around that they loved Avatar. I will see it tonight and try to suss out whether it is Globes material.¬† But enough of my yacking. Onward to predicts.
Best Picture, Drama
Fairly certain about:
Invictus
The Hurt Locker
Up in the Air
Inglourious Basterds
An Education
And then one of the following: Precious, Avatar, The Messenger
I am slightly worried about Precious – I would love to see a stunner here, like Bright Star — The Globes are at their best when they introduce a new title into the mix, something no one was giving any credit to beforehand.¬† But these are the safest bets. An Education, by the way, seems right up their ally.
Musical/Comedy should be an interesting mix of films — Nine seems like the surest bet here. Slightly worried that Meryl Streep will split her vote but I feel confident, as Tom O'Neil seems to feel, that both films are strong enough to make the cut. The Informant is the one I wonder about for this category. Tom doesn't have it listed on his really useful Inside Track feature.
Musical/Comedy
Nine
It's Complicated
Julie & Julia
The Hangover
A Serious Man
Also possible: 500 Days of Summer, The Informant!, The Proposal, Sherlock Holmes
If you want Sherlock in, you have to think of which film to dump. I guess the only vulnerable one would be A Serious Man, but it is one of only a few that is extremely well-reviewed, so they'd be kind of foolish to leave it off. But one never knows; it is a brilliant film, but not exactly a crowd-pleaser.
Director – last year the Globes went five for five matching their Best Pic drama choices. And the year before, most of the directors were in the drama category, with only one (Tim Burton) from Musical/Comedy. And the years before that, same thing. So if history holds, it will be mostly directors from the drama category.
Clint Eastwood, Invictus
Kathryn Bigelow, The Hurt Locker
Jason Reitman, Up in the Air
Quentin Tarantino, Inglourious Basterds
Jim Cameron, Avatar (how do you ignore him)
But also possible: Rob Marshall for Nine, Lone Scherfig for An Education, Jane Campion for Bright Star.
Screenplay
Again, the Globes don't divide up the screenplays between adapted and original or comedy and drama. Usually, like Director, they match up with Best Pic drama, or come close. So it seems likely that:
Jason Reitman, Sheldon Turner, Up in the Air
Nick Hornby, An Education
Mark Boal, The Hurt Locker
Anthony Peckham, Invictus
Quentin Tarantino, Inglourious Basterds
Also possible: Geoffrey Fletcher for Precious (surefire Oscar nominee), The Coens for A Serious Man, Spike Jonze and Dave Eggars for Where the Wild Things Are — there are so many potential adaptations this year it is head-spinning. Would love to see In the Loop recognized here — but it's a tight category, especially since there are only five.
So there you have it. The first in a series of predictions for the Globes. Be sure to check out Tom O'Neil's Inside Track for a really good rundown on all of the categories. We'll pick up later today with actor/actress and the rest of the categories.