Although I haven't been making too big a deal about it, I have to say that there is a part of me that sits here unbelieving that a woman could actually win Best Director for the first time in Oscar's 82 year history. The rules of the game have stated that only straight, white guys can win Best Director.  But those rules seemed to be on a slippery slope now. Barack Obama has become president. If that door could be kicked down, it hardly seems so shocking that a woman could actually be the last man standing on March 7th.  And yet, there is still a tiny part of me that thinks it won't happen.  What brings me back to the possibility is the acknowledgment that there is only film this year that stands clearly above the rest, with or without the high ticket sales. It isn't just that Kathryn Bigelow is a woman; it's that she happens to be a woman who has directed the best, and most lauded film of 2009.
It is the greatest irony that the one director who is her biggest threat is her ex-husband, Jim Cameron. Avatar and The Hurt Locker couldn't be more different. Avatar will probably squeak past The Dark Knight if not this weekend, then certainly next weekend. By the time the Oscars roll around, Avatar will have become the highest grossing film of all time (not corrected for inflation). Its script leaves nothing to the imagination – and it relies on the best special effects the world has known to tell its story. But what a story it is. The Hurt Locker by contrast, hasn't even made $20 million. It's unheard of for a film to have made so little money to win Best Picture. But it's equally unheard of for a film about space aliens to win Best Picture. Equally unheard of for a woman to win Best Director. Equally unheard of for a film to win Best Pic without an editing nod. And so it goes. These rules are made to be broken. Which one of them will matter the most this year? It could be the money. Then again, maybe not.
Since there will be ten Best Picture nominees but only five director nominees, we have to start looking at the idea of whether or not a film can win Best Picture without a director nod at all. If that is so, then it really is a wide open race. But probably we're looking at a scenario where the winning film will have to have, at the very least, a Best Director nomination. Most people who write about this stuff are assuming that Best Pic and Best Director will split up somehow. Some say Avatar for Best Pic, some say Up in the Air for Best Pic, some say Inglourious Basterds for Best Pic, and even some say Precious for Best Pic.
The most likely scenario was hashed out a month ago — Avatar for Best Pic, Hurt Locker for Best Director, Up in the Air for Best Screenplay. Original Screenplay seems like Hurt Locker's to lose, but there is Inglourious Basterds to contend with at the Oscars, since it was not up for a WGA nod. The most likely scenario, though, could change dramatically after the nominations are announced. If the Oscars go for Avatar in a big way you will see a Screenplay nod for Cameron (Titanic did not get one), and perhaps an acting nod for Zoe Saldana in supporting. If these things happen, Avatar could sweep the Oscars, winning Pic, Director, and all of the techs. That would be a replay of Titanic's year.
The five Best Directors will likely follow the DGA's lead.  There is no reason to assume that they won't. For the time being, Bigelow leads the pack.
1. Kathryn Bigelow began her visual work as a painter before she turned to film. Educated well, Bigelow was a Whitney Museum fellow before attending Columbia University to study film theory. She then turned to filmmaking. The film that put her on the map was Near Dark, a visually stunning, bloody and funny vampire picture. In it, there were the Cameron regulars, like Bill Paxton, Lance Henriksen and Jenette Goldstein ("have you ever been mistaken for a man?" "No, have you?"). If you didn't know it was directed by Bigelow you might have assumed it was directed by Jim Cameron. But at some point you would key into the visual style that separates Bigelow from everyone else.
After Near Dark, Bigelow made a few films, though none really living up to her early promise. Once she hooked up with Cameron, it felt like she went too commercial, too fast. There is probably a theory out there that Cameron "made" Bigelow, having produced two of her films (Point Break and Strange Days). The truth is that Bigelow did not do so well for the next decade or so. What she needed was a good script. Unlike Cameron, her films could not fly with bad writing. They seemed to hover between worlds – they were art films dressed up to be commercial hits. The Weight of Water seemed not to connect with audiences or critics, and by the time she made K19: The Widowmaker it seemed that Bigelow's career was over. Seven years later she found The Hurt Locker.
It is the film's sheer brilliance that has kept it afloat this year. By all rights, this one should have been dead and buried. It was supposed to have been released at the end of the last year, but around the time of the Toronto Film Festival it was decided that the film should be released into the dumping ground of the early part of the following year. And from thence into obscurity. But there was something about this film that could not be ignored. Critics raved about it. No one went to see it because it came on the heels of a series of anti-Iraq war films. Even the press about The Hurt Locker being non-biased didn't help. Those who saw it loved it. But getting people to see it was the real trick – the film had no stars in it and it was about Iraq. Two strikes against it off the bat. But when it comes to deciding what films are the best of the year, The Hurt Locker was the one that kept emerging.
The Hurt Locker (2009) – Los Angeles Film Critics – Director, Picture
The Hurt Locker (2009) – National Society of Film Critics – Director, Picture, Actor
The Hurt Locker (2009) – New York Film Critics – Director, Picture
The Hurt Locker (2009) – San Francisco – Director, Picture
The Hurt Locker (2009) – Southeastern Film Critics – Director
The Hurt Locker (2009) – Boston Film Critics – Director, Actor, Picture, Cinematography, Film Editing
The Hurt Locker (2009) – Washington, DC – Director
The Hurt Locker (2009) – Chicago Film Critics – Director, Actor, Picture, Cinematography, Screenplay
The Hurt Locker (2009) – Gotham Awards – Director, Ensemble
The Hurt Locker (2009) – Kansas City – Director
The Hurt Locker (2009) – Las Vegas – Director, Picture, Actor, Cinematography, Editing
The Hurt Locker (2009) – Seattle International Film Festival – Director
The Hurt Locker (2009) – Hollywood Film Festival – Director
The Hurt Locker (2009) – ShoWest Convention, U.S.A. "Triump Award" – Director
The Hurt Locker (2009) – Venice Film Festival – Best Film
The Hurt Locker (2009) – Venice Film Festival – Human Rights Film Network Award – Best Film
The Hurt Locker (2009) – Columbia University – "Andrew Sarris" award
The Hurt Locker (2009) – Washington D.C. Area Film Critics Association – Director
The Hurt Locker (2009) – Golden Satellite Award – Director, Picture
The Hurt Locker keeps getting recognized because, quite simply, it is a good story well told. No film is going to make the Best Picture cut if it isn't a good story, but The Hurt Locker is involving from the first frame. There have been great war films made about the desperation and fear of fighting a war that can't be won. It isn't that the idea of it is so original. What makes Bigelow's film stand out is the choices she specifically makes as a director. It doesn't hurt that Mark Boal's screenplay is so layered, with three characters whose lives are so compelling. Bigelow has the kind of a relationship that allows actors to trust her, which is how she got these performances. Her camera takes us into the private experiences of each of the characters. For all of them, we are allowed in to moments they wouldn't share with anyone, least of all the men they fight with. But it isn't even just a gutted soldier crying in the privacy of his own experience; it is the way these men take care of each other on the battlefield that really gives us an unforgettable experience. Something as simple as Jeremy Renner's character getting a juice to give to Anthony Mackie, or helping another wipe the blood off the ammunition so that it will work. It's also two soldiers talking privately about maybe killing Jeremy Renner because he is bound to get them killed sooner rather than later.
In The Hurt Locker it isn't even what is said that has the most resonance; but what is unsaid. Beyond the context of the story, the film itself is riveting. There probably isn't another film in the Oscar race (other than maybe The Road, which unfortunately isn't really in the race at all) that strips down the survival mechanisms within us. The Hurt Locker is a cinematic masterpiece. It's as simple as that. Whether it is the Best Picture winner of 2009, or not, there is no denying that Kathryn Bigelow should get the full credit she deserves. And probably will.
2. Jim Cameron- Cameron's career has never really had a dry spell. He knows how to deliver a great cinematic experience. He is a total visionary and that hangs him up sometimes in terms of the cornball dialogue but the action sequences and strong female characters and jolts of unexpected humor more than make up for it. Going all the way back to the first Terminator, Cameron's films contain notable quotes that are repeated even today. To that end, you can criticize Cameron all you want, but people remember his one-liners. Cameron is a genius when it comes to creating action set pieces. Nobody can do it like he can. Titanic is mostly dull until the ship hits the iceberg. But once that ball is set in motion, you feel like you have never seen a better film.  This is true of all of his films. He spends a lot of time on character and drama, but that is never what is most memorable. Although, I'm sure, that is part of why his films are so enjoyable. But he has never quite achieved the level of story and breathtaking visuals as he has with Avatar. What makes Cameron a good candidate to win the Oscar for Directing is that Avatar is his childhood dream, his ultimate vision. It isn't just one great film, it is the culmination of a whole career. It will also be the biggest money-maker of the year, a worldwide phenomenon. It could get to a point where it simply can't be stopped.
With the help of WETA, the success of Avatar, like the success of Titanic, is all on Cameron. If anyone is going to take the credit, it will be him. Without The Hurt Locker in the picture, and the added element of it being Kathryn Bigelow, of all people, Avatar would likely sweep all of the major awards – Picture, Director, Screenplay, Editing, Cinematography, Art Direction, Visual Effects, Score, Song. With The Hurt Locker in the picture, one is forced to compare the two. Since each one has exactly what the other one doesn't, it is going to come down to a matter of taste.
It isn't just the action sequences that make Avatar so spectacular; the scenes that win you over are the quieter scenes of astonishing beauty – all of that glittering light, the glow of the trees and the vines through the planet, the bigness of the Na'vi compared to the vulnerability of humans next to them. There are silly moments and cliched scenes throughout – but, like Titanic, you are ultimately won over by the story and what you are watching on screen. No one could have made Avatar except Jim Cameron.
It's possible that Jim Cameron can roll over Kathryn Bigelow and The Hurt Locker. If he hadn't already won so big with Titanic this would be a no-brainer. But his previous win will make this win seem like an embarrassment of riches. However, a Picture/Director split vote seems more and more likely.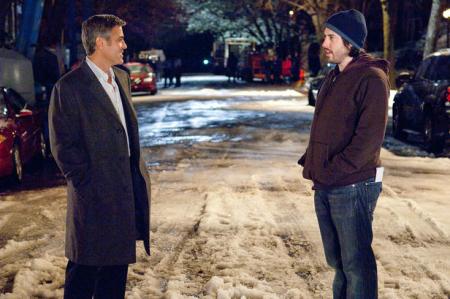 3. Jason Reitman – Up in the Air had most of the awards momentum before it was released. But the film's release came at exactly the wrong time. The buzz had died down, but more importantly, Avatar was crushing the competition at the box office (no one wanted to talk about anything else), and The Hurt Locker was winning all of the critics awards. Up in the Air was supposed to "strike a chord" and make a good amount of money. But when it opened, there was no time nor no room. All the same, the film is still the film, regardless of the timing. Reitman was written up by Frank Rich in the New York Times who wrote, 'ÄúUp in the Air'Äù may be a glossy production sprinkled with laughter and sex, but it captures the distinctive topography of our Great Recession as vividly as a far more dour Hollywood product of 70 years ago, 'ÄúThe Grapes of Wrath,'Äù did the vastly different landscape of the Great Depression."
Reitman has had three at bats and did extremely well each time. But he's getting sappier as he goes along, less dry and more sentimental, which is how he finds himself Oscar-bound; they didn't really take to Thank You for Smoking — but Juno was right up their alley. Up in the Air is the most sentimental of all three of his films, even if it ends on a non-sappy, non-happy note. Up in the Air would be winning every single award up to and including Best Picture if Reitman had chosen to leave in the element of the Walter Kirn novel that had George Clooney's Ryan Bingham dying of cancer. That makes the story completely different, less a salve for our times and more about how death can sometimes wipe that smirk off of our face. Although I definitely would have left the dying part in, you have to admire Reitman for wanting to make it less about that and more about the American story part of it. The focus, then, is shifted off of Ryan Bingham to showing a hole where a man's soul should be. If he were dying, one could understand why he would make such a false grab at having a life, only to come crashing down. Since he isn't dying, one can only conclude that he has refused, for whatever reason, to grow up while everyone else around him has.
This tells me that Up in the Air is more of a self-portrait for Reitman than it is an adaptation of Kirn's novel. That particular spin ended up striking a chord with young men everywhere who have yet to clue in to the true meaning of life; no, it isn't about collecting air miles and getting priority status. No, it isn't really about chasing tail. It certainly isn't about looking good and streamlining everything that weighs us down. Life is heavy. Life is messy. Life is hard.
Jason Reitman is a good director on his way to becoming a great one. That probably means he isn't quite ready to start winning awards, although he is about to win his first Oscar for adapted screenplay, probably. Up in the Air could still win Best Picture. If it wins the Golden Globe this weekend, its chances get a lot better.
4. Quentin Tarantino. One of the last great American auteurs has delivered nothing short of the best film of his career. Inglourious Basterds is a mad dance. It's so many things at once it's impossible to categorize it – it is funny, it is sad, it suspenseful. It is The Producers' play within a play, Springtime for Hitler meets Dr. Strangelove and The Good, the Bad and the Ugly. It has so many cinematic references one could teach an entire course on cinema based on his influences for this film alone. Of all of the Best Picture contenders, Inglourious Basterds is probably the most fun to watch. Once you surrender to the fantasy of what it means to see such a reversal on the usual Nazi/Jew paradigm in cinema, one can experience a jolt of ecstacy unlike any other. Does this make it rewriting the Holocaust, or is it cognitive therapy out of the endless victimization of the Jews we have seen in cinema, especially Oscar-oriented cinema? Either way, it is dazzling and entertaining. Tarantino writes as well as he directs. He said that the actors he chooses have to be able to do "Tarantino-speak." He didn't say it that way, but what he meant was that his dialogue has to be read a certain way. If the actor doesn't get it, the scene will not play. He has been lucky with the great actors he has found to work with, but it seems like he really got lucky with Christoph Waltz.
The only bad thing about Waltz is that he is so good the film slightly deflates whenever he isn't on screen. The scenes where he is on screen are so mesmerizing you cannot take your eyes off of it. What will he do next? What will he say next? He is always polite and almost sweet until he turns terrifying.
Tarantino's mastery has you watching every frame with awe. If he manages to win Best Director, beating Bigelow and Cameron and Reitman, it will be because voters simply enjoyed his movie more. And that is certainly possible, though not probable.
5. Lee Daniels, like the other four, had the strong desire to tell this story. Of all of the five director contenders, Daniels is the one who found the key to getting Mo'Nique and Gabby Sidibe to turn themselves inside out. Daniels has said in interviews that people like Precious used to repulse him. He drew from this repulsion, set it right before our eyes, and asked us to judge her, and to judge ourselves. The driving force behind Precious is the book by Sapphire (just in case we might have forgotten the whole title of the film). It is from her poetic verse that this almost unbelievable story came. In fact, it is even worse in the book.
Lee Daniels found his own life in that story. A young gay man growing up with a cop father who used to beat him regularly, Daniels witnessed the prevelence of abuse in his own neighborhood and it had a lasting impact on him. He explores this very personal territory with Precious. And should he be nominated for an Oscar, he will have made history as the first black, openly gay director ever to be nominated. Black directors have been nominated less than even women at the Oscars. About the same about as openly gay directors, if you must know. Best Director is usually modeled after the John Fords and the Clint Eastwoods.  But this year, all bets are off.
Precious and Lee Daniels have managed to keep going through this very competitive season. The main reason for this is that the film is emotionally moving to the point where no one can forget it. I have never bought the Whitey Guilt argument, simply because there have been so many stories of African American despair that have never gotten this far. Precious is not succeeding because Lee Daniels is a black director; it is succeeding entirely on its own merit. But can it win? Will it win anywhere? Mo'Nique has it in the bag. And the script could give Up in the Air some heat.
Beyond these five directors, there are still a few names pushing through the edges. Last year, it looked like Christopher Nolan was going all the way. But he was left off for Oscar. Here are a few names that could replace one of these five, if any of them drop off:
Neill Blomkamp for District 9
Clint Eastwood for Invictus
Joel and Ethan Coen for A Serious Man
Lone Scherfig for An Education
Other than that, and in a different year, other directors might be considered. Spike Jonze for Where the Wild Things Are, Jane Campion for Bright Star, John Hillcoat for The Road, Tom Ford for A Single Man. These are all great films that Oscar will likely leave behind.