Ahhh, the shorts. With the three different categories of live action, documentary, and animation, the short film categories can make or break your Oscar ballot every year. Even though the Academy is slowly making strides for more inclusivity with its membership and winners, the shorts always represent a wide swath of artistry that trots all over the world. You can find our write-ups of the Live Action Short contenders here and the Documentary Short Subject contenders here.
If Disney gets nominated this year for Us Again, it will be the 50th time the Mouse House was honored in this category. Last year's winner, If Anything Happens, I Love You, was the first time that Netflix prevailed, and it has Robin Robin competing this time around. Can the streamer go back-to-back? While those two studios have worthy contenders, they have their work cut out for them with this year's crop of eligible shorts. I've never claimed to be an expert on animation itself, but we can all respond to the images we see and the ingenuity of the creators. According to The Academy's site, 82 films qualified for this year's award.
Affairs of the Art
Have you ever listened to a crazy relative go on and on about their regrets or other family members and you wonder how you're related? That's how I felt watching Joanna Quinn's delightful and naughty, Affairs of the Art.
Every member of Beryl's family is obsessed with something. She regrets not going to art school, but her husband is her muse. He will bound around the house naked at Beryl's request to capture his body in motion. Her son loves his pet pigeon, but he has to keep a ravenous cat at bay. Beryl's sister, Beverly (voiced by Quinn herself), was always interested in taxidermy. Or Vladimir Lenin. Or, when they were kids, putting a pet mouse on a train set and seeing what disaster would strike.
Quinn's film is hilariously alive. It's swift, charming, and I would watch an entire series on these sisters.
Affairs of the Art is available through The New Yorker's YouTube.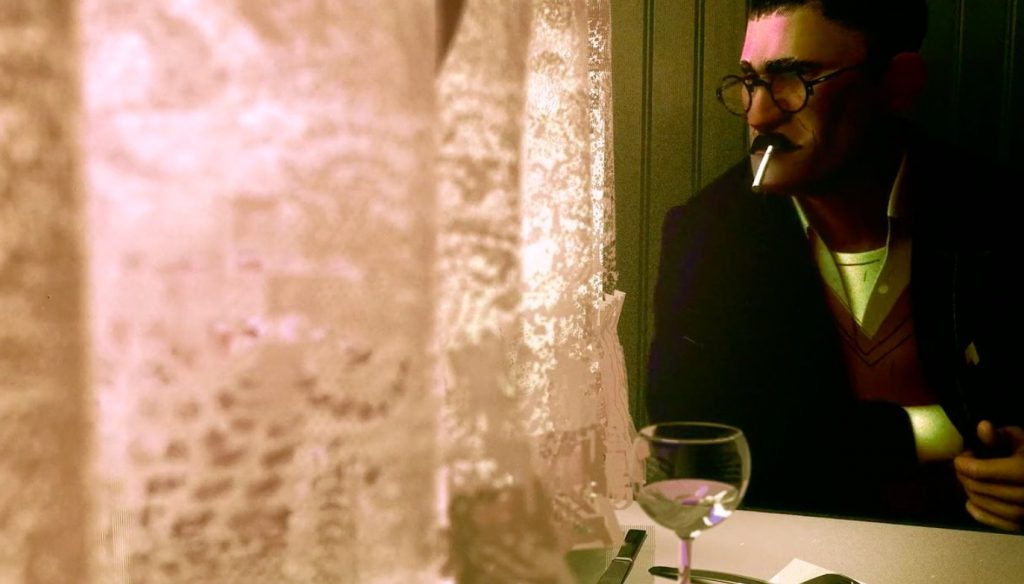 The Windshield Wiper
A man sits alone in a café as he makes his way through an entire pack of cigarettes. The table next to him is talking about love and relationships, and he looks at the camera right in the face and he asks, "What is love?"
The question is huge and seemingly impossible to answer, but The Windshield Wiper knows that love is fleeting. But it also endures. It starts and stops. We see vignettes of nameless characters as they try to navigate dating and loss and loneliness. It manages to be beautifully simple but so rich and complex without its characters saying anything at all.
The film uses a mixture of 2D and 3D that feels so realistic that we might think we see real people. I loved how it lets us connect to small scenes of heartbreak and the excitement of possibility.
The Windshield Wiper is available on YouTube.
Us Again
Disney has an incredible knack for yanking emotions out from our hearts (I'm still not over the first fifteen minutes of Up), and director Zach Parrish is able to elicit feelings of longing and times gone by with Us Again. 
An older couple is having an ordinary day at home. She wants to go out, but he wants to stay in and be surly with his television. When he follows her out, the pair find themselves in the rain, and they seem to go back in time. He stands taller, and she moves quicker. They dance in the rain down the street, but when the rain stops, they go back to being older.
Without saying anything at all, Parrish's duo transmits so much fear of being old and missing your younger self. Do we hold on or do we let go? Even if the dance changes, you're still dancing. The colors in Us Again are stunning. The neons glow, ripple, and reflect in the water. As it is one of the shortest films on the shortlist, voters will easily fall in love with Us Again.
Us Again is available on Disney+.
Bestia
I've never seen anything like Bestia. It's a mysterious and foreboding film that is remarkably based on a true story. Its surface is glossy and childlike, but there is something very sinister and unsettling about its imagery.
A woman becomes entrenched in secret police work in the military dictatorship of Chile in the 1990's. She repeatedly goes to a secret location with her German Shepherd, and two men meet her to carry out violent deeds. Director Hugo Covarrubias introduces elements like fractured pieces of ceramics themselves. Bestia is so compelling, because the story's pieces aren't obviously out.
Covarrubias' choice of using the images of ceramic figures as his characters is what is so unnerving. It's like we are complicit in the violence, but we can't turn away. We are trapped in the minds of Hummel figures from hell.
Step Into the River
China's one-child policy isn't explicitly brought up in Weijia Ma's gorgeous film, Step Into the River, but history looms large.
Wei and Lu are two young girls living in the same village. The nearby river is a constant for families there, and they are always warned to not go near the water. One girl is teased because she was orphaned by her parents, and the other was born because her older brother died. The feelings of being unwanted is tragic enough, but the young age of these two girls makes that sadness resonate so much more.
Ghosts are very prominent throughout Ma's film. Even if they exist at the edges of the characters' minds, they are present. Step Into the River doesn't want you to forget the echoes of the one-child policy, because it is still reverberating.
Step Into the River is available through The New Yorker's Screening Room.
Bad Seeds
Do I know what happens in Bad Seeds? Not really. It's simple with its near black-and-white images, but who knew talks of evolution could be so wacky and spontaneous?
Two plants fight over flies and other bugs. With each new gulp, the plants change, and they start to grow and morph. After just a few changes, they begin to compete with one another, and they transform into other animals and, yes, some historical figures.
Bad Seeds represents a lot of what animation can do with a simple concept.
Bad Seeds is available through the Canada's National Film Board's YouTube page.
Robin Robin
One of my favorite things about stop-motion animation is how it creates the desire to touch everything that's on screen. LAIKA does that very well. Netflix's Robin Robin tells a found family story, but it's also a Christmas tale that could be seen as a franchise jumping off point.
Robin know that she feels different from the rest of her family. After all, she's a bird and she lives with a family of mice even though she is the most gung-ho and enthusiastic when it comes to finding food. After a disastrous trip in a family's home almost gets them killed, Robin is determined to make it up to her family, and she teams up with an injured bird named Magpie to steal a Christmas star to bask in its glowing warmth and wishes. They just have to get away from the Gillian Anderson-voiced cat…
Robin Robin is probably the most family friendly of the shortlisted films, but it's also cozy and inviting. The visuals and story are not lacking because children will fall in love with it, and the Academy could make a wise move in nominating a film that's about kindness and forgiving others.
Robin Robin is available on Netflix.
Souvenir, Souvenir
The secrets of one generation is the curiosity of the next generation in the captivating and disturbing film, Souvenir, Souvenir. It feels like it's part memory, part history, but it is one of the most visually interesting films on this list.
Bastien has tried various ways to get his grandfather to discuss his time in the Algerian War, but he refuses to talk about it. He asks other family members about it, and he finds out that his grandfather's army buddies have discussed it with him. But is Bastien able to process what his grandfather might have done? Is he ashamed of what he did during his time? Would Bastien be able to forgive any of his grandfather's actions, and, if so, is it up to Bastien to forgive him?
What is so striking about Souvenir, Souvenir is how the film utilizes different methods of animation to tell its story. As Bastien searches, the style allows the colors to crash into one another and the animation blends into itself to tell the story. When it flashes back, however, the images of war are cartoon-ish and exaggerated. It reminded me a lot of the style of Ren & Stimpy. It embraces the animation style to juxtapose with violence and horrible acts.
Souvenir, Souvenir is available to stream on Bastien Dubois' Vimeo.
Only a Child
It's hard to describe Only a Child, because I truly think it's a movie to be seen and not described. "All of you are someone's child," the narration begins, but you are not ready for the damning words spoken by Severn Cullis-Suzuki from 1992. Using animation from 20 different animators, the film was brought together under the supervision of Simone Giampaolo. It isn't long, but it's so effective.
When Severn is speaking, she says considers herself lucky that she was not born in a country like Somalia, or she could've been born in a beggar or child of war. In America, we waste so much and don't know what we have. That section of Severn's speech that stuck with me the most is about how we are taught to be compassionate and share with our fellow students when we are in school. Once we get out, however, we are selfish and do not think of others in need.
Since the animation is constantly changing, we cannot tear our eyes away. It's not jumbled or jarring at all. It seamless weaves the animation styles together to create a tapestry of images. It's like the film itself: we can come together as citizens and neighbors and use our differences to our advantage instead of using them to hurt one another. This film has a lot to say'–we need to listen.
Only a Child is streaming now on YouTube.
The Musician
Like a classic love story unfolding decades later, The Musician is one of the most striking films of this bunch. It informs us early on that this film regards the Mongol people being invaded by Genghis Khan, but it's so open-hearted and beautiful to look at.
Even though Reza Riahi's film introduces us to a moment in history, it's rather intimate in its storytelling. A young musician and the woman he loves are separated during wartime. Decades later, he is playing his instrument in a cage when a familiar woman catches his eye.
The Musician uses stop-motion animation techniques combined with cut out paper characters to create a truly unique film. You would think that the images would be flat or there wouldn't be a lot of dimension, but Riahi (who was an art director on the Oscar-nominated The Breadwinner) provides so much subtly in the colors that you can't help but get swept away by the style of the film.
The Musician is streaming on Paramount+.
Angakusajaujuq: The Shaman's Apprentice
There is so much atmosphere in The Shaman's Apprentice that I forgot that I was watching a stop-motion animation film. The Shaman's Apprentice follows a young woman as she assists an elderly shaman with helping a man survive.
A young shaman accompanies her mentor to Kannaaluk, and when they arrive, the shaman asks the ill man, 'do you know why you are sick?' The man is in terrible pain, and I'm sure he is confused when the shaman asks for her piss pot and uses the liquid to try and solve the problem (Take that, Vicks VapoRub!). The shaman realizes that they have to delve deeper in order to solve this man's aches.
The Shaman's Apprentice treats light and wind in such a complex way. When you see the fur moving on the body of an animal, it doesn't look stiff or stilted at all–it looks so realistic. There are some moments where an electric score accompanies the more traditional sounds, and the entire story is so seductive. There is a scene late in the film where a polar bear is surrounded by other animals, and every frame looks like a gorgeous painting or picture. I was hypnotized by this film.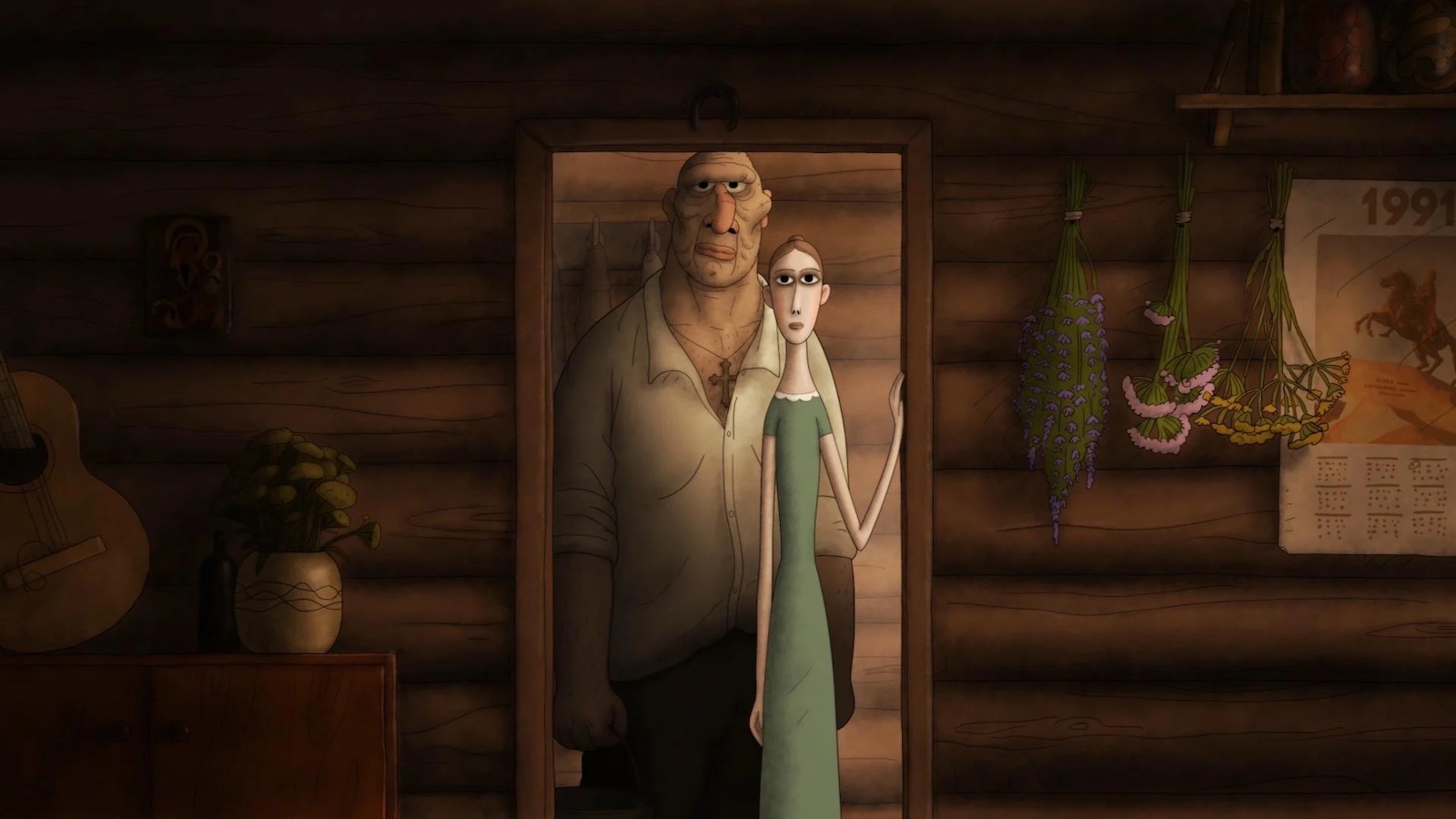 Boxballet
A ballet dancer makes a connection with a gruff boxer in the winning Russian short, Boxballet. Does everyone remember how Darren Aronofsky originally planned on Black Swan and The Wrestler as one story before making separate films? This might be what it would've looked like.
The concept of this film is rather simple. A delicate ballerina is on her way to become a superstar when she slowly begins a romance with a muscled, older boxer. Her director (who bears a striking resemblance to the late Peter Bogdanovich) is a creeper, and the film has a few sequences of the boxer in the ring taking some punches. She's slender and tall while his muscles are rounder and he's about to go to seed.
Like a lot of romantic comedies, these two shouldn't work out, and that is evident by how clearly director Anton Dyakov drew them. There is a coldness to the story that is warmed by the animation, and you can't help but want them to be together. There is also, like Aronofsky's films, the notion of how people beat up their bodies for their passions. It's both lovely and coarse in the best ways.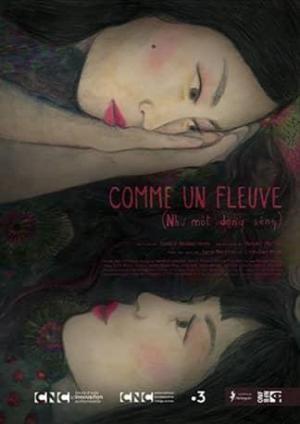 Flowing Home
Two sisters grow up in Vietnam but they are separated by war. They stay in touch through letters and they update one another on the events in their lives. Flowing Home is haunting in its simplicity but beautiful in its execution.
Thao flees Vietnam by boat to Malaysia while Sao Maï stays home to take care of their parents. Even though they assume they will be reunited soon, their separation lasts for two decades. When they exchange letters to one another, they talk about seemingly mundane things, but those small details can inform so much to keep that bond alive. Think of the things you tell your siblings on the phone when you are catching up. It keeps you going until you see them again.
The hues of blue and green are alluring and will lull you into the story. I loved how some images crashed into one another to form another object like when an image of a huge wave turned into a feral beast that threatened to eat them.
Flowing Home is available on Vimeo.
Mum Is Pouring Rain
I don't know the last time I saw a child's perspective of their parent's depression, but I kept thinking about it as I watched the French language short, Mum Is Pouring Rain. 
Jane is looking forward to the Christmas holiday, but she is upset when her mother tells her that Jane will be spending it with her grandmother. Jane doesn't like her grandmother's dusty, old house, but Jane's mother needs time to clear her head when she spends time in a mental illness facility. Even though she is reluctant at first, Jane comes around when her gran lets her help in the kitchen, and she is introduced to a friendly half-giant named Cloclo (think Hagrid but without the beard and a long scarf).
Mum Is Pouring Rain manages to balance out the serious topic of mental illness with the magic realism of the animation. When you are a kid, everything feels like the end of the world, but Jane unexpectedly finds resilience in her new surroundings. Perhaps Christmas as granny's house isn't so bad after all when you have a new friend who can help you fly to meet your mom?
Namoo
Namoo is a poem brought to life from the boundless mind of Academy Award nominee, Erick Oh. Oh was nominated last year for the transfixing film Opera, and he stands a good chance of making the cut again with an ode to his late grandfather.
By using one setting, Namoo (Korean for tree) begins with the birth of a child, and, as the child gets older, so does the tree. It's a beautiful reminder of how things around us grow in tandem with us. He becomes an adolescent teen and a man in love. Namoo doesn't have to use dialogue to tell the universal story of growing up.
The tree is as much a character as the tree is. It takes on his burdens, his strife, and his belongings to show the weight we carry with us as we go through life. Oh uses subtly uses striking colors that represent childhood and being carefree. Everyone will take something different away from this film depending on where you are in life. It's stunning.
Namoo is available on HBO Max.
Who Will Be Nominated?
Every film eligible for this category has something going for it, so I could see any combination of nominees. A good rule of thumb is to look at how the film uses the animation to tell the story. They typically go for some international stories as well.
Disney isn't always a shoo-in to win, but it typically gets nominated. Since Us Again is the studio's only entry (unlike last year when it was Burrow and Out), it stands a fair shot at getting in.
I think Namoo is the frontrunner. It's a complex, emotional story, and Erick Oh was just nominated last year.
Here's where it gets tricky. Robin Robin stands out because nothing else looks like it, and it's a winning story. Netflix has quietly made a presence across all the shorts categories (the most successful being Documentary Short Subject), but you know they are going to push this one hard if it makes it in. Having cute animals always helps.
My gut feeling
Flowing Home
Namoo
Robin Robin
Souvenir, Souvenir
Us Again
Watch out for:
Affairs of the Art
Angakusajaujuq: The Shaman's Apprentice
Bestia
The Musician
The Windshield Wiper