Do you remember the monster under the bed? Maybe you were scared of the shadows from the closet in your childhood bedroom? Two sisters must do battle with a feared evil in Moshari, Nuhash Humayun's celebrated short film. By using dark imagery and sound ratcheted up to eleven, Humayun's film is both a disturbing monster fable as well as a tale of tough, familial love and something much bigger.
The film opens with a pair of sisters at dusk on a sweaty day. The younger sister, Ayra, prays over the carcass of a dead cow, as her older sister, Apu, tries to get them home. The sky is not clear and flooded with dark greys. A voice over a loudspeaker warns them to not leave their homes after nightfall, and that their "religion cannot save you from them." We immediately understand that there is an outside threat, but Humayan wanted to create a horror allegory for climate change in Bangladesh.
"Climate change is one of those issues that we always see from the perspective of the West, but Bangladesh is a part of the world where we are the most affected by it despite being the least responsible for it," Humayun said. "We call it climate resilience or climate survival. It was one of the inspirations, and horror is a genre where you draw from your deepest fears. I am terrified of losing my people or losing my world, so it might be a political issue for some people. It comes from a really personal place for me. I wanted to tell a story that was about these two sisters, and, I would say, it's about marginalization and globalization as well. There are many ways to look at it. Sometimes climate change films can feel predictable, so I wanted the ambiguity. That's a fresh approach to this issue."
As Ayra and Apu prepare for the night, they climb into bed under the halo of a moshari, or a tightly knitted mosquito net. As the camera slowly pulls back before the title card, the moshari glows like a bubble of light or a makeshift sanctuary. It's a beautifully striking image.
"The idea of this moshari is so new to a lot of people," he said. "For me, it's something we grew up, and, as a child, I felt like the light would be trapped within the moshari in a particular way where it feels like I can't see what's on the other side. What if there is a monster outside? What if I am safe inside, but there is something dangerous outside? I was tapping into those primal, childhood fears, but I wanted to create a new myth. This is a story when I had when I was a kid, so it took me a long, long time to create these images. When we debuted at South by Southwest, I gave a short speech, and I said, 'I know you don't want to hear another story about climate change, so we made a scary movie instead.'"
When the monster makes itself known, Humayun introduces it in a subtle and terrifying way. There is a hole in Ayra's moshari, and the monster pokes its finger through it. It's a surprisingly curious moment, but it's also reminiscent of Nosferatu with the creature's long, spindly fingers. Throughout Moshari, you get the impression that these visuals will stick with you for a long time after the film is done.
"To be honest, I didn't have the full story at first," Humayun admits. "I had some ideas from when I was a kid, and two of the images that I had was this little girl in the moshari and the finger coming through–like The Creation of Adam. The other is Apu with the moshari on her head like a veil almost looking like a ghost. I liked the power of that imagery, and it's kind of like a reversal. It's a little girl afraid of the dark, but in latter half of the film, Apu becomes a monster herself. She is not afraid of the thing anymore and no one can hurt her family but her. There is strength in that imagery with the moshari on her head. When I watched vampire movies as a kid, I was always curious why a crucifix would be the ultimate protection. I am not familiar with Christianity and that iconography, so I wanted to make something that didn't make sense to some people. What happens if we take religion out of the equation? What is our version of the crucifix? The other thing about the imagery is that the music was a huge part of it. We used flutes and tablas, because we wanted an original sound. It was tricky for us since it's not creating the sound that we wanted. For some influences, we watched the first season of True Detective and Hereditary to hear the soundwaves, because there is a science to fear almost. We had to dig into the science and then go back to the instruments to mess with it."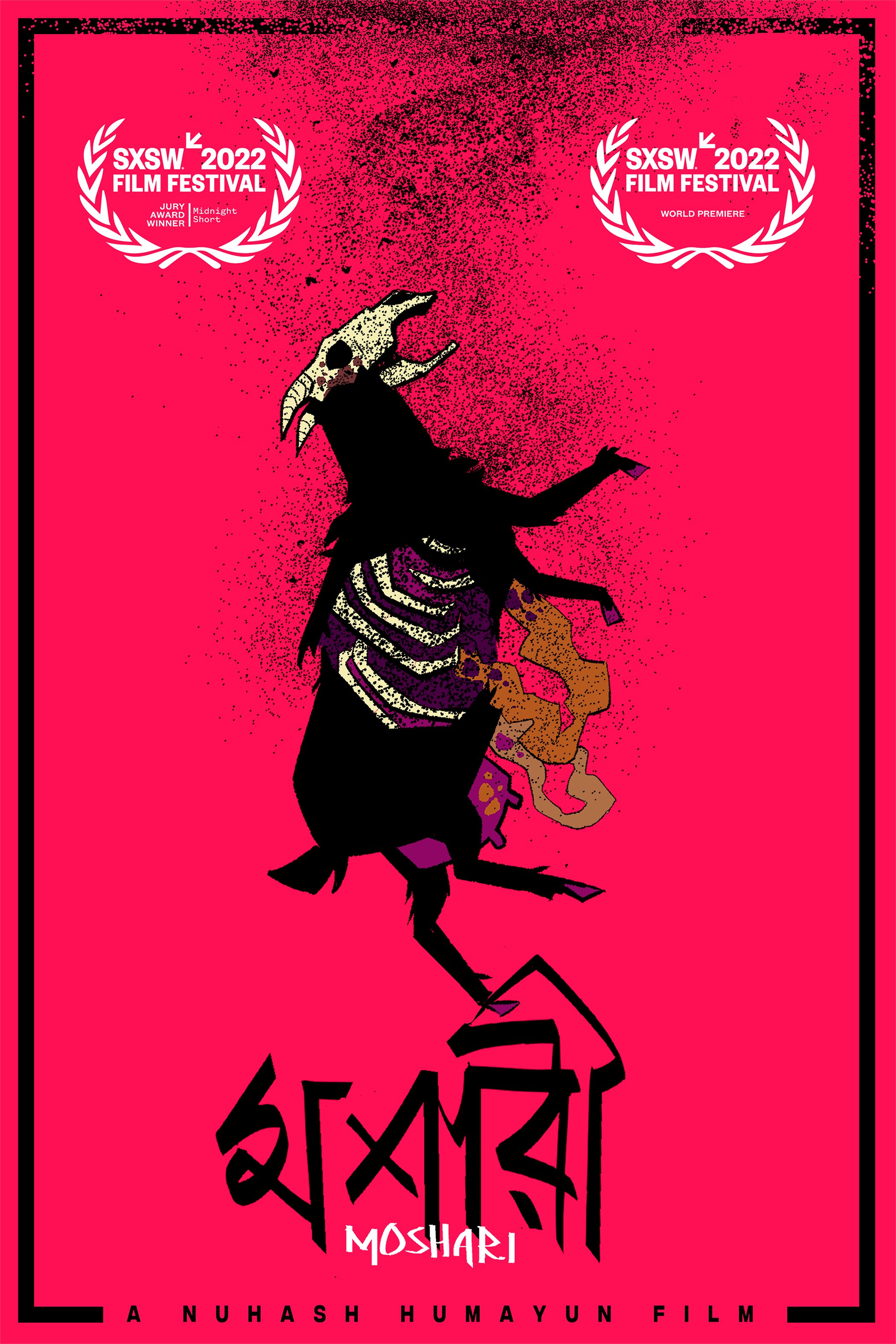 Moshari is more personal than we may realize, and Humayun had a few revelations about his past and family while making this film. If the bond between Arya and Apu doesn't work, then the film loses an important element. Luckily for us, you can tell that the director instructed his young actors with ease. You truly believe that they lean on each other for survival.
"The familial relationship was very important," Humayun said. "When I was developing it, I didn't know what the movie was going to be about yet, and there is beauty in that innocence. At the premiere at South by, my older sister showed up, and afterwards she told me, 'All this time, I liked your films because I am your sister. This time I actually liked it.' I thought it was kind of mean, but then I realized that that is what my movie is about. I made this movie, because it was about our relationship. My parents went through a lot when I was a kid, and my sister raised me. She became my mother, in a way, and sisters are bad at being moms. Moms are good at being moms–sisters overdo it. When a sister is trying to be overprotective, they are protective because they are dealing with their own stuff. With the moshari, it is protecting you from being bit by bugs, but it is also a little suffocating. It's hard to breathe inside, and I think that's family."
I love how Humayun utilizes colors in Moshari. There are deep greens and yellow tones throughout, and it reminded me of how Jordan Peele (who is a producer with Academy Award winner, Riz Ahmed) has visually infused his films with themes and recurring color schemes. We inevitably talked about horror inspirations, and Humayun's enthusiasm for the genre enhances making a scary story even more atmospheric and dark.
"I love what John Carpenter and Sam Raimi do with horror," he said. "I love Jordan Peele from this era. Horror has always been connected to social commentary, but the scariest experience I ever had was making this short. We don't really have horror in Bangladesh, and I come from a comedy background. While we were filming this, the crew would say that the film wasn't scary. When you are filming a comedy, it's funny on set and drama can be very emotional. Everyone can feel it. When you are filming horror, there's actually a lot of light and you do a lot of work in post. It was hard to get producers on board, and we felt like it was going to be a disaster. I keep trying to go back to my childhood to find what scares me, and how do I use that framework to use those techniques and structures to create something new."