We have fleeting encounters every day, and, sometimes, we don't think anything of it. We talk to baristas as we get our morning coffee and talk to strangers as go about or work day. When you feel that spark of connection with someone, however, it can be a powerful and palpable thing. In Keeran Anwar Blessie's romantic and intoxicating short, A Fox in the Night, two strangers gently react to an unexpected pulse. It grounds us and reminds us that we shouldn't be afraid of our own instincts. It's flirtatious, coy, and life-affirming.
Keeran Anwar Blessie stars as Lewis, a young person ready for a night out. When he stops at his dealer for a routine pick-up, he finds himself drawn to Daniel, played by Korey Ryan. In their first exchange, it feels like there are many unspoken rules–things that they may have established when they interacted before. This time it's different, and Blessie leaned into his own curiosities.
"It was actually inspired by a friend of mine who was dating someone who was at the opposite end of the gender expression spectrum," he said. "I was really fascinated by their relationship and how things worked between the two of them. I was drawn to what kind of stories would exist if these two characters would be on camera, and most of the stories that did exist in this form of representation was about trauma exchange. I wanted to give these characters the 1990s, rom-com moment."
The film opens with a shot of the back of Lewis' head as he walks down the street, but the focus is on the pearl earring that dangles from his ear. We come into every film with expectations or assumptions, and an earring like that could signify elegance, wealth, or status. On Lewis' ear, it's playful and defiant.
"It was important to me to get that tight shot, because, immediately, you get assumptions about the wearer," Blessie said. "I wanted to keep that moment for as long as possible so much that we will wonder about we are going to see on the other side of the camera when he takes the corner. I was very inspired by Johannes Vermeer's The Girl with the Pearl Earring, and I make reference to that when I am with Korey [Ryan]'s character, Daniel. It was important to me to use that iconography and use it on global majority bodies and queer bodies."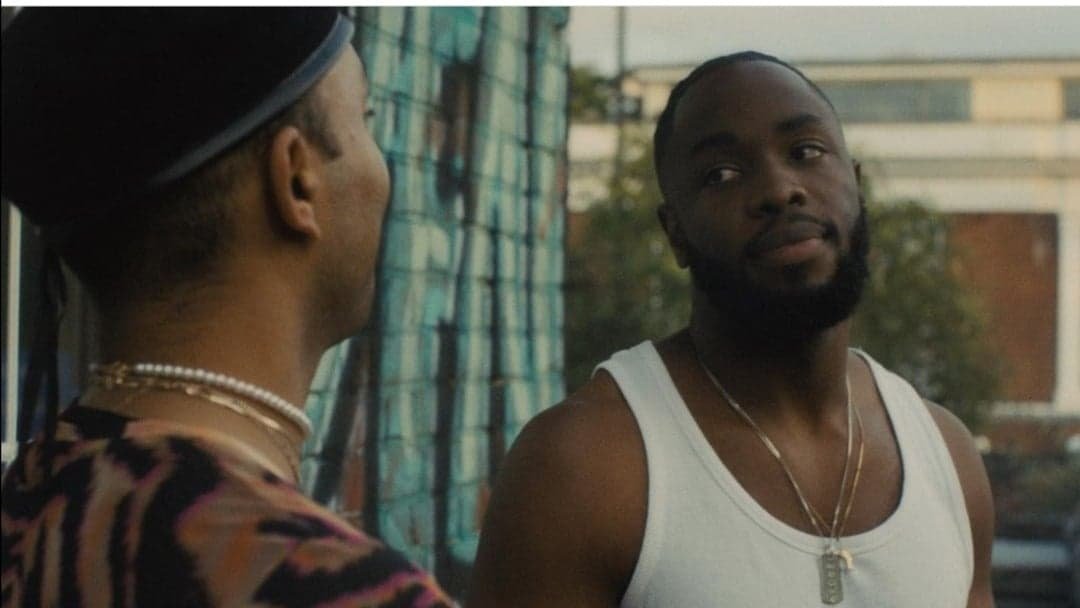 Chemistry is everything with a film like A Fox in the Night. I kept wondering what these two people were going to say to one another, and there is a longing radiating from both Blessie and Ryan. They are there for a transaction, but you can tell neither person wants it to end. The push and pull between Lewis and Daniel is robustly sexy, and Blessie and producer Benjamin Jacob Smith felt the connection between these actors right away.
"[Korey] asked a lot of questions in the audition," Smith revealed. "That stood out for both of us. I had my eye on the time, because there were more people to see, but I was pleasantly surprised by the amount of engagement he had in the room. Especially with Keeran. Outside the scene work, there was a connection the conversational style to him asking questions from both parties. It's hard to get that in the audition room. Keeran and I come from a performing background, so we both know how difficult it is to attain that chemistry in that kind of setting. There was an effortlessness."
"We did self-tapes initially, and there was something that Korey had but it was also there in the room," Blessie added. "Korey oozes charisma quite naturally, and that was exciting to me as a director and actor. He is just so charming. We immediately knew we wanted him, but, beyond that, he's a very collaborative person. He had such an enthusiasm for the material. I have to admit that, with casting a queer film, there were some reservations from other actors. It was great to have someone with so much passion from the beginning."
An audience can pick up on intimacy that is too manufactured or handled with clunky care. A Fox in the Night's sensuality doesn't fall into these traps, because Blessie focuses on the individual moments or the lines. When Lewis and Daniel step outside to share a joint, there is an unspoken closeness immediately established. Lewis holds his hands over the lighter as Daniel struggles to get the lighter to spark. Another moment of intimacy happens when Lewish adjusts the earring on Daniel's ear. We have, especially in the last few years, been keenly aware of our physical space, and the blending of personal bubbles can be a sensual thing.
"Those two moments were quite poignant, because that closeness was so important," Blessie said. "I have to admit that the moment with the light was such a beautiful gift. The wind was horrible, so we had to improvise. The most significant moment was going to be when Lewis reaches out to adjust the earring, because it's such an intimate thing to touch a complete stranger. That was a great signifier of how much distance they traveled in such a short amount of time in terms of being open and vulnerable with one another. It was important to me to reflect that since it showed that the journey that started at opposite ends of the room."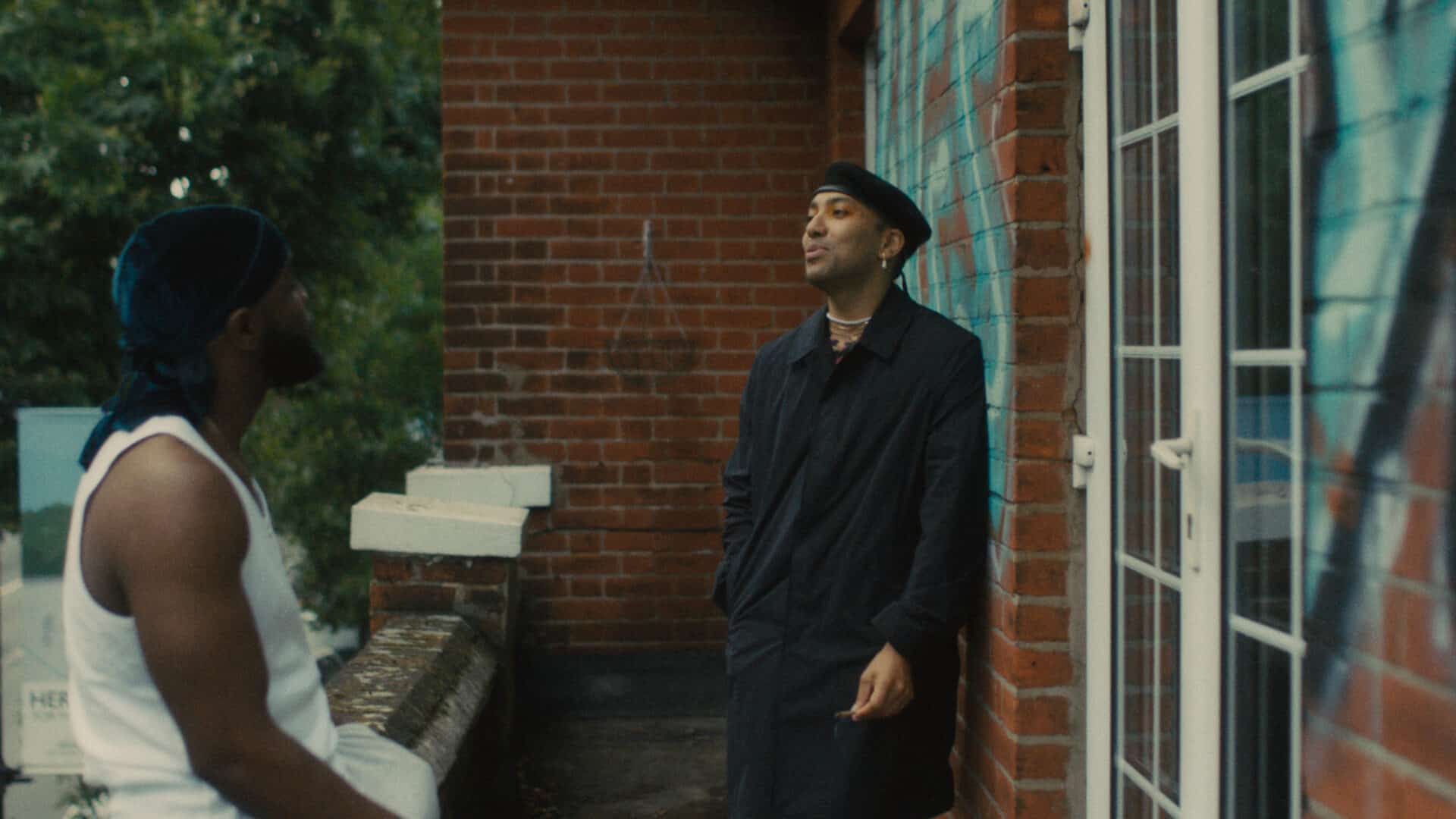 A Fox in the Night tinkers with our expectations. We think Daniel will be upset over Lewis' presence or Lewis might be scared to open his jacket to show off his crop top. Towards the end of the film, Lewis tells Daniel, 'You look beautiful' whenever he accepts Lewis' piece of jewelry. When was the last time Daniel was told that? Has he ever accepted the notion that he, a traditionally strong and masculine man, can wear that compliment with pride?
"That closeness was in the script, but it was also based on the location," Smith said. "The room that we shot in initially was a lot larger than the balcony that we shot on. That was such a tight space. There wasn't a huge crew out there, and that lends to the level of intimacy. It wasn't a moment on a balcony with 30 crew members. The monitors were inside, so we were watching while we were hearing it come from outside."
"I wanted it to be a simple moment, and it needed to carry the potency of what that means beyond these two characters," Blessie revealed. "It was wonderful for audiences to really connect with it. For people who the film represents, it's lovely for them to feel that they can live vicariously through these characters. A lot more people have, hopefully, walked away with the value of those kinds of words. And who you share them with. Making this, in a post-Trump, post-pandemic world, I hope this will make people want to connect more. The world can feel increasingly hostile, and that means we can be more disconnected or reserved. Hopefully, the audience can connect with that beauty and connection that can be found in the world."
Every time I have watched this film, I have responded with a swoon, because it works both intellectually and emotionally. Even the most cold-hearted person wants to be loved or noticed or acknowledged, and Blessie's film taps into that natural need and desire. It also asks us to surrender our expectations of how we think men should act or flirt with one another. We should welcome such a glorious, beautiful surprise.
I kept thinking about Lewis and Daniel and if they would ever cross paths again. Would they see each other in public? Will they be alone? Can that tenuous bond be reignited? Normally, I balk at asking for more after a film concludes, but my curiosity got the better of me when I asked both Blessie and Smith if these two would reconnect.
"My lips are sealed," Blessie said with a smile.