Seeing Jane Krakowski in the second season of Schmigadoon! is like realizing a mirage is real. She has always been a performer whose characterizations have given audiences plenty to guffaw with, but there is something special about her hoofing about in the second season. Krakowski's Bobbie Flanagan is the perfect match between giving performer and inspired writing, and you can tell that she is having a ball.
When I first heard that Cinco Paul's musical tribute was moving into the dangerous glitz of musicals from the 1970s, I had wondered which role Krakowski would embody. She could be coy and wide-eyed like Roxie Hart or vamp it up like Velma Kelly. It's natural for Krakowski to fill the pinstriped suit of Bobbie Flanagan (a nod to Chicago's Billy Flynn), because she is a natural showman. Being able honor the legacy of the women of musicals that Krakowski grew up on was a thrill for the Tony Award winner.
"This era of musicals was the era that most heavily influenced me, and I was thrilled that we were covering this decade," Krakowski says. "I've always been drawn to the darker, sexier, edgier ones. I was a kid coming in and taking dance classes and then I'd see a Broadway show and dreaming about being one of those women up on stage. For Chicago, I saw Chita Rivera, Gwen Verdon, ad Jerry Orbach from the third row on the aisle, and I was approximately 8 years old and looking at them with such wonder. I saw A Chorus Line about 9 times probably. I was lucky to grow up with parents who loved the theater. There was something about those women that I was attracted to. As I got older, I realized that they weren't not the ingenues, and they weren't not the sopranos. They were quirky, sexy, alto-singing women that Bob Fosse anointed to represent his musicals, and they were subliminally–and maybe consciously–ingrained in me for a very long time. I think that affected choices in my career, for sure. They were confident in their womanly nature–they weren't hiding it. They celebrated it, and they were also funny."
When Cecily Strong's Melissa comes to Bobbie for help, we immediately recognize the nods to Flynn, but Krakowski moves like a Roxie. She exudes charisma, but it's fascinating at how Schmigadoon! has the ability to mash together different qualities of beloved musical theater characters to create something new. Krakowski was swift to point out that that doesn't end with the actors but it extends into the costuming and choreography.
"I love building characters that I get to play, and this felt like such a treasure trove since I was so familiar of the pieces of musical theater that we were covering," she says. "There is always an innate sense of me that comes through my characters–my person, I should say. It's all about choices. The first thing we shot was the top and the end where we are all together and you get to see that Billy Flynn slash Bobbie Flanagan was going to be with Sweeney Todd and Miss Hannigan and Mrs. Lovett. How we are all standing in one line. I remember we had to wave goodbye and I gave Bobbie Fosse fingers. Little things like that and things like working with the costume designer for "Bells and Whistles."
The gold sparkle was a conscious nod to the finale costumes A Chorus Line. The body suits could go, for instance, from a suit to a body suit as a nod to the women and the costumes that they all wore in the Bob Fosse musicals. The makeup was a mash-up between the glamour that was required for Bobbie and yet some of the decadence of the time period of those musicals. They were all specifically chosen. Each moment was meant to be intentional, and it's a great joy for me to think through all of those things. It makes it feel like it's a part of me to be able to bring those little touches in–whether people get it or not. When I was working with our amazing choreographer, Chris Gattelli, on "Bells and Whistles," I remember noting that there were some vocal parts and references to Val from A Chorus Line. I asked if we could do some higher hands like she does on the poster? If people get they get it, and if they don't, they don't. But Chris and I would know it's in there. Putting those pieces together absolutely thrills me."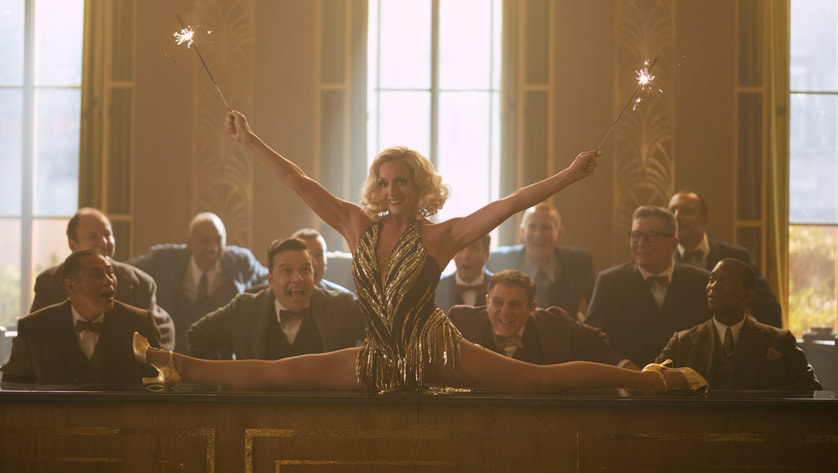 Krakowski is a physical, willing performer. Audiences may recognize that from 30 Rock, but her stage work is even more ambitious. If you haven't seen her silkily slide down from the proscenium in nothing but a sheet in the last revival of Nine or seen her get dragged across the stage in a full split for She Loves Me, you haven't lived. For her biggest number, "Bells and Whistles," Bobbie swings down from the ceiling on a trapeze, but then she swings, roller skates blindfolded, tap dances, and does magic all within a 4-minute song. Bobbie Flanagan can do it alone.
"I have been so moved by the reaction to that song," Krakowski says with a smile. "It means so much to be in this conversation right now. To get a great role with such great dialogue and then get a musical number like this–they don't come along very often. It's a pure celebration that was given to be through Cinco [Paul]. With Schmicago, we got the change to create and rehearse in a rehearsal hall more than we did in season one, because COVID took that away. This season really combined my two loves in my world, which is live theater and a natural collaboration and rehearsal process with smart, funny television.
So much of the number was on the page, and it said that we were going to throw in a lot of skills like, say, juggling. I remember calling Cinco and asking, "Do I need to learn how to juggle now or…," and he told me that we would do things that I already knew how to do. He always wanted any specialty trick or dance break to reference the law, and I thought that was very smart. When I tap dance, I am doing the presentation of the evidence. Picking up the saxophone–which still makes me laugh–helped blame it on jazz. Creating the number was a wonderful collaboration with Chris and Cinco. The script said that Bobbie gets lowered on a trapeze, but that's all it really alluded to. I asked if I went to trapeze school to learn some things, if I could stay on longer. They had to redraw the set design, because there was only a 4×6 opening for my body to fit through. It was such a great thrill–give me a chance to fly, and I will take it. Some tricks, I think, were a conscious meta choice like the roller skating being a wink to my Broadway debut. Chris came up with the idea that I would be blindfolded which added another level to it. We wanted to pull steps to honor the original musicals, and I had always wanted to learn "Hot Honey Rag." I asked if there was extra time, I asked Chris if he could teach it to me. We both wanted to honor Chita, Gwen, and any other woman who has performed that song."
If all the physical momentum wasn't enough, Krakowski gets to spout a tribute to Stephen Sondheim's Company as Bobbie delivers her argument to the court. She does it all in one shot, and not having any cutaways is proof that Broadway performers do it best.
"The [Stephen] Sondheim section was a gift. I couldn't believe that her summation was going to be such a loving nod to "Not Getting Married Today." I thought it was incredible that this character had an opportunity to use her womanly wiles to mesmerize, but, one her feet were on the ground, that she does have a comprehension of what she was talking about. We filmed that Sondheim section in three takes. It was one of those things where there was no room for error, but I remember practicing it over and over again. Somebody asked me a few weeks ago to speak a part of it, and it's still in there. I haven't spoken those words for so long, but it's ingrained at some portion of my brain."
Schmigadoon! is streaming now on Apple TV+.