The Tribeca Film Festival is a reliable place to find some quality short films, and this year is no exception. The festival closes this Sunday, but we wanted to play some catch-up from this year's entries. Last year, Night Ride (Nattrikken) won Best Narrative Short and was nominated at this year's Oscar ceremony. Stranger at the Gate (also nominated) took a Best Jury Mention for Best Documentary Short at last year's festival and was also nominated in the Documentary Short Subject race.
Today's entry focuses on some more comedic short films. We will be back with a part II on Monday.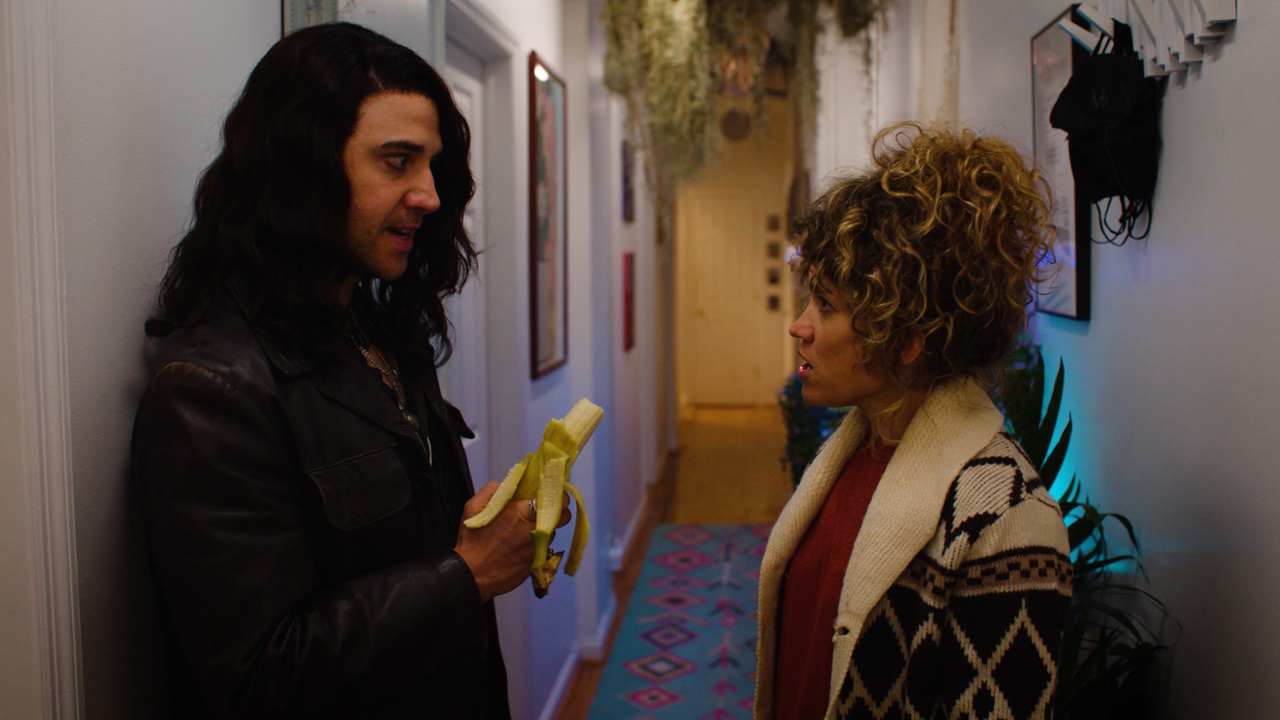 Brenda & Billy and the Pothos Plant
Would you call upon your magician brother if you killed your mom with a cast iron skillet for yelling at you about your plants? What else is family for!
Brenda & Billy and the Pothos Plant is a whackadoo short about sibling differences being put aside when one of you nearly decapitates your mother. Brenda, a botanist, and Billy, the magician in question, team up to try and bring their mother back to life before a friendly cop busts them in Dave Solomon's charming film.
Santino Fontana plays Billy, and his consistent deadpan coupled with his long curtains of dark hair made me believe that he is destined to collaborate with both Tim Burton and John Waters. Sarah Stiles' Brenda has a manic energy mixed with the natural zen of taking care of plants. Keep one eye open the next time you visit the garden center.
Savi the Cat
"I had no idea that something so small and cute could upend my marriage, and evenmy life, completely upside down," is the first line spoken in Bryan Tucker and Netsanet Tjirongo's Savi the Cat, a documentary/animated hybrid that explores one couple's marriage being tested by a rambunctious feline. As someone who legitimately thinks there's not enough positive cate representation in movies (DM me if you want me to rant and rave), Savi the Cat will make you go on an unexpected ride of pet ownership.
Ken decides to adopt a cat despite the fact that he is allergic, because his wife, Kaila, loves them so much. It turns out, though, that Savi has too much energy and scratches whatever he can get his little kitty paws on. They make the difficult decision to give Savi away, and it opens up questions about how couples make decisions together and how pet parenting is something that you need to be in the right place for. If you are too young or jump in too quickly, you will not be in the same headspace as you are when you are in, say, your late thirties.
Savi the Cat uses both animation and interview footage from Ken and Kaila as they guide us through all of their decisions. It is a marvelously paced short that features two heartwarming surprise scenes that were both filmed by Ken. There is a lot of obvious love between Ken and Kaila, and Savi–or any pet–should be an extension of that expression.
Konpa
Knowing another language comes in handy for everyday interactions, but a young man learns that there are other ways to communicate in A. Plancher's flirtatious short, Konpa.
Jean-Pierre doesn't know Creole very well even though he can understand it when he hears it. When he stops at a restaurant window to order some food, the woman tells him that he doesn't speak English. She calls out her daughter, Minouche, to help both of them, but instead of translating an order between the two of them, she leads Jean to a crowded dance floor in the back.
When learning another language, it's better if you have a teacher or a guide. Minouche allows Jean to respond to her touch and her closeness–two forms of teaching that can lead to other kinds of communication. Is it a fleeting encounter? Will Jean return for more lessons? That's up in the air, but Plancher draws us in and makes us want to step onto that dance floor ourselves.
We can all learn how to communicate better, don't you think?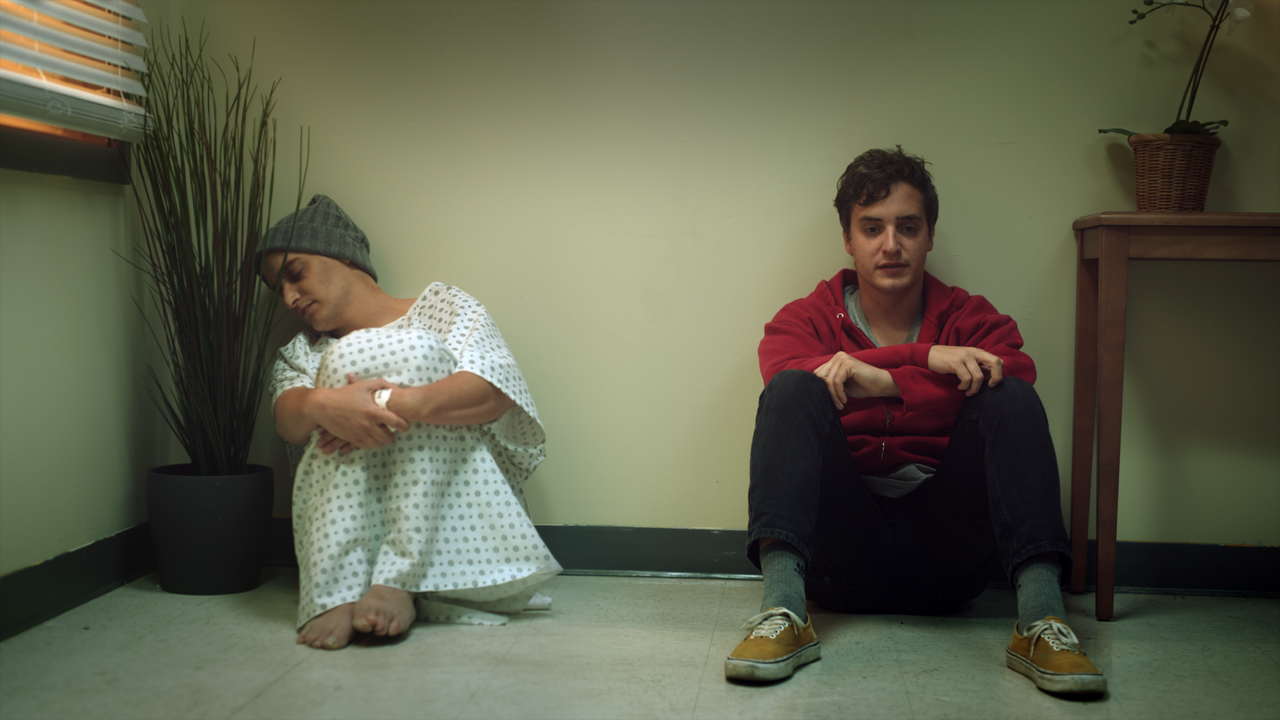 The Sperm Bank
Securing one's legacy is a common thought for those who experience a traumatic medical diagnosis. Margaux Susi's The Sperm Bank centers on Rob, a young man who has just been diagnosed with stage 4 testicular cancer. A million questions flood into his mind about survival, the rest of his life, and will he be able to have kids if he beats this? Well, that might be a poor choice of phasing…
Set almost entirely in a sperm bank's waiting and examination rooms, Rob cannot perform because of the material provided. "Do you have anything more…loving?" he asks an "over-it" nurse. Based on a true story of writer and star Rob Scerbo's diagnosis, The Sperm Bank is good-natured, funny, and reminiscent of the looseness found in post-American Pie comedies of the early 2000s.
What I didn't expect from Susi's film is how it confronts our fears when we aren't supposed to. Rob's two friends accompany enthusiastically cheer on their friend to masturbate that it makes us question why dudes are so hung up when they could be simply be supportive and loving. No cancer survival story is like another, and The Sperm Bank is unlike anything you will see.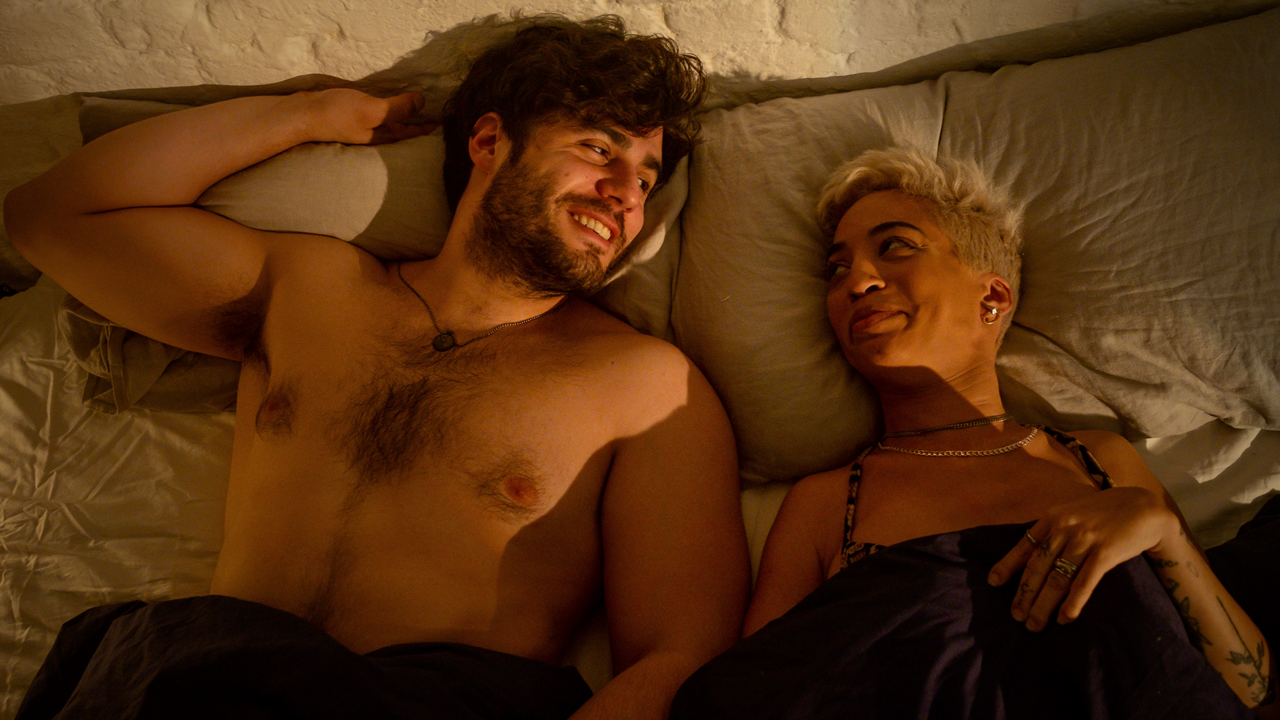 My Eyes Are Up Here
Hooking up with someone is supposed to be about feeling good and moving on, but what happens when a one night stand insists on being there after the sun comes up? Nathan Morris' My Eyes Are Up Here is an essential romantic comedy and features sexy chemistry between its two leads, played by Jillian Mercado and Ben Cura.
Sonya wakes up on the floor beside the bed of the man she went home with. When he realizes that his condom broke, he insists on escorting her to get the morning after pill since she uses a wheelchair. Sonya, an in-demand model, appreciates his sentiment, but she doesn't think he realizes what he is getting himself into.
As they venture to the pharmacy, he sees how Sonya is treated by the people she must encounter every day. Just getting out of his apartment has complications, and she has a short conversation with two vile girls on a bus. Sonya can stick up for herself, but her paramour wants her to know that he has her back. Mercado is strong but never harsh and Cura brings a homegrown sexiness to his performance. I want to watch an entire series about their courtship.