You have never seen anything like Prime Video's Swarm. It's a rabid mixture of horror, dark comedy, and self-exploration filtered through the obsession with a world-renowned pop star. Costume designer Dominique Dawson not only had to build unique journeys for all of her characters, but she had to establish the path for a lead character who doesn't truly know who she is.
I had wondered what it would be like for a costume designer to read the scripts by a team led by Janine Nabers and Donald Glover. Dawson reveals that she saw a lot of imagery immediately, and that helped with kicking off her vision.
"It was super surreal because when I got the script, Dre's name was originally Dominique," Dawson says. "It was trippy because she was going through so much stuff. Is Donald Glover setting me up to have this trippy experience? Overall, I could feel the tone from the very beginning. You could feel the awkwardness in Dre's dialogue—she doesn't say much, but when she does, it's very poignant. You could feel the tension from the page."
I definitely wanted this idea of shifting identity throughout the entire season. She is learning who she is, but she is also trying to blend in wherever she goes. At the same time, this is the first time that she is having this much fun with what she wears since she can steal whatever she wants."
With a character as singular as Dre, Dawson had continuous conversations with Dominique Fishback. Dawson points towards an ideal of "less is more" in terms of assembling outfits. The clothes never clutter, but they always serve a purpose.
"Dominique, Janine Nabers, and I really picked apart how this awkwardness blooms into her strength. We go from her in the most basic thing—which is just a bra top and a grey, oversized short with biker shorts in episode one—to seeing her trying on these different identities and looks. When she goes to the music festival, she is wearing that bucket hat and this funky, tribal number with combat boots. That is an iconic look that we identify as 'festival,' but she looks bizarre in it. Dominique would ask me what I thought Dre would wear, and then she would play with it. She would change her posture or fuss with them. That collaboration allowed us to find the balance. Janine has such an eye for how simple our choices can be. We don't have to go overboard and throw a bunch of things at her. It was about being minimalist and poignant."
Dawson's submitted episode "Honey" begins with Dre performing as a dancer at a strip club. Up until this point, we know Dre as a quieter, meek person, but her attire is sparkly and eye-catching. Her outfit is silver and is cut around her behind, but what you can't escape is the thudding sound of her plastic-y shoes on the runway. Dawson says that selection is an indication of how Dre would shop when she knows she's going to perform that night, but that is a long, seemingly never-ending night. Dre and her fellow dancers go from the club to backstage to an unhinged private party before the episode ends in the daytime. That stripper attire is meant more for being seen at a club, and it feels entirely different in the cold light of day.
"My goal, initially, was Dominique going towards the stereotypical thing when she picks out her first stripper outfit," she says. "She goes for the flashiest, shiniest thing she could find. I told my tailor that it was like Michael Jackson's glove—out of everything in the room, you can't take your eyes off of it. When she starts to move in it, you realize that she has no handle on what she's doing. As she continues to work the club, she needs less and less since she has that swag to get whatever she wants out of these guys.
When we see her at the party, she is back in her tomboy stuff, because she's not doing it for them. The other girls amp everything up, and they put on all their designer stuff. That coat was a Moschino trench that I just imagined the girl went in and put down a pile of ones to pay for it. Once it transitions from the car breaking down to day, I tried to have those shimmering, reflective pieces that would be shown off not just in the space but also as dawn creeps in on them. That puff coat kind of looks like this animalistic, killer-bee jacket."
When I saw the trailer for Swarm, I couldn't get the image of Fishback laughing out of my head. When X Mayo's character asks her if she has a body in her truck, the laugh is quick and loud as if the sound itself is trying to push the question off the table, but Dre's outfit is already iconic. Dawson dresses Dre in a two-tone top whose colors reminded me of something from TLC's first album, and the arc cut of the shirt over it is unlike anything I've seen.
"We did so much research about pop stars and looking into their evolution," she says. "We wanted to call out a lot of throwback fashion, so that had an Aaliyah vibe to it. Some Beyoncé vibes. She had done a photo shoot with a bra and panty set, and, I think, the band said something like, 'dumps in the truck.' It was something flirty. I couldn't find the exact set, but, as luck would have it, I found one that said 'Honey,' which was the name of the episode. We wanted to show that off, but I knew Dre wouldn't wear that by itself, so we cut that T-shirt to have this oversized, boy-shirt look to it with the bra showing. We finished it off with baggy camo pants and Tim's. Definitely a Left-Eye vibes with the color."
Dre's determination to see Ni'Jah perform live is thwarted when she becomes tangled in the web of a cult led by Billie Eilish's Eva. As she becomes more acquainted with the group, you start to notice a specific color scheme.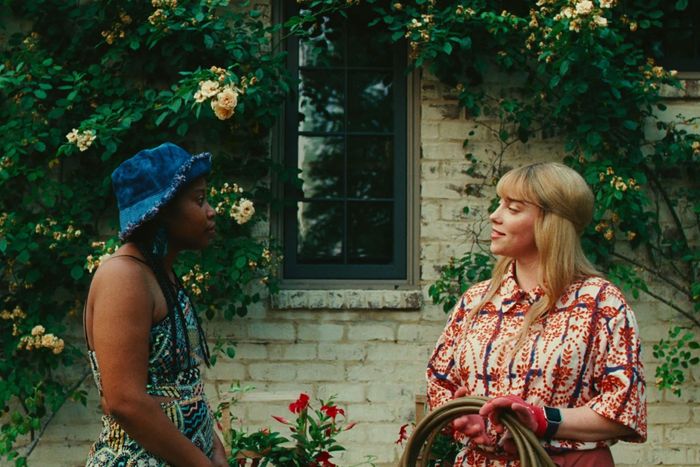 "When she gets into the cult with Billie Eilish, all the girls are going hiking, and they put their clothes on her," Dawson says. "Over the course of the episode, she loses herself and adopts this cult attire. When the incident happens with the car at the end of the episode, all the other girls are wearing the same thing. We made sure to pick two colors to reference the Rajneeshee cult, and we had almost everyone in rose and a few people in olive green. Those sets were the higher-up cult members to create a form of hierarchy."
We see a poster of Ni'Jah very early in the season, and it's easy to see why Dre is obsessed with her. Clad in silver, she is looking right at you—almost as if her eyes are drawing you in. Dawson had to create the perfect image that serves as a reminder of obsession.
"I love the casting of Nirine Brown so much," she says with a smile. "She is so talented, and she is such a great dancer. Her physique is a wonderland for a costume designer. I loved that they cast someone who is darker-skinned and strong because we don't get to see that very often in pop stars. I wanted to embrace her skin tone and her beautiful, voluptuous shape. I worked very hard to reference Queen Bey, of course. Seeing her when she began when her mom made her clothes to this over-the-top, couture life. We have really witnessed the journey of this young woman into who she is today. I wanted to portray a futuristic, Afro-centric vibe–that was the mission for the current stage of Ni'Jah. I felt like I was referencing Miles Davis' 'Bitches Brew' because the inside of that album is really trippy. Kind of Salvador Dalí. Ni'Jah can be glam but there is something weird and tribal in there."
Dawson's designs have been heralded for not just being appropriate and alluring but also attainable. I am keeping my fingers crossed that I will see groups of women at Halloween wearing a different Dre outfit together. In one episode, Dre returns home, and her father chases after her in a robe with a shotgun, and I want that robe for myself ("We had to have multiple duplicates of that robe–it had to have character," Dawson says). With so many fantastic pieces, what would Dawson take for herself?
"We did a video in tandem with the show, and Ni'Jah wears this Balmain dress with long, chocolate fringe with these brown, snakeskin thigh-high boots," Dawson says, her eyes wide. "I would die. Each piece of fringe has brown, glass bead within it. As you are walking, it's shimmers. Fringe was something that we used a link between Ni'Jah and Dre, so there was fringe on that pink, metal dress. We tried to make these beaded headdresses in the video, because there is so much freedom in it. Fringe is so unpredictable just like Dre."
Swarm is streaming now on Prime Video.