When you read Colleen Atwood's name in the opening credits, you know you are about to see detailed, exquisite costumes, and Wednesday is full of them. Atwood was not intimidated at all by the legacy of The Addams Family–she embraced it by honoring the work of this new series' scripts. Atwood takes to a new Burton project like a piranha takes to a high school gym class swimming pool. Atwood proves, once again, that she is a force to be reckoned with, and her designs for Wednesday are packed with style, character, and nuance.
When you think of Wednesday Addams, you automatically conjure images of a little black dress with her face framed by the iconic braids. The color black, however, can be trickier to play with than one might think. Depending on the lighting or the other costumes in the scene, black sometimes loses its texture or flair when a camera begins to roll. Atwood was keenly aware on how to avoid this problem.
"It crossed my mind all the time, and I have thought about it all my life," Atwood admits at the start of our conversation. "I love the color personally. When we switched from film to digital we lost a lot from the medium to dark fields. Stuff was light next to something dark tends to go really flat. For years, I have tried to add texture or painted something on top of it to add a layer to juxtapose the same colors next to each other to give you separation in detail that you could normally not see. It's something that's a constant journey. When you start a movie and they start doing tests with the lighting, it's your come to Jesus moments with the colors, if you will. Since I have done it so long, having it happen on Wednesday, it was more about the journey that we were going to make. When we could break it up with white, we did it. Luckily, with Wednesday, she is a black-and-white character, so she can pull from both when necessary."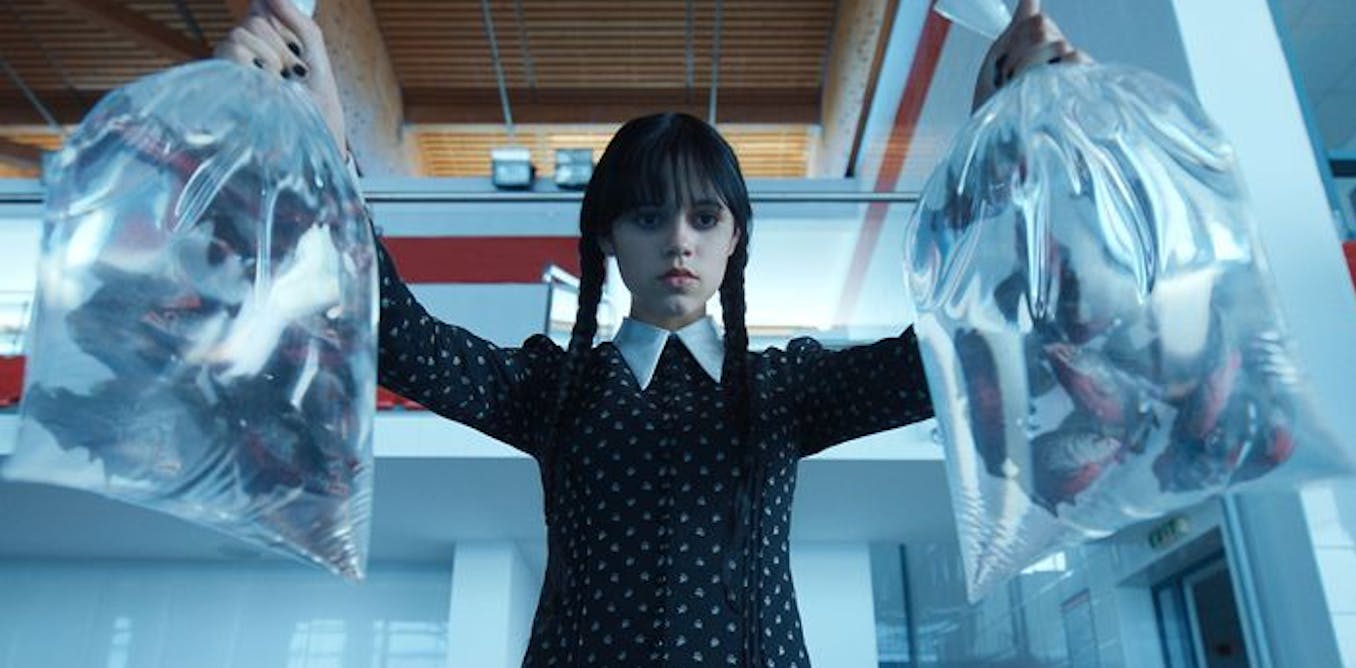 The first time we see Wednesday (and those adorable piranhas), she is wearing a dress with small white flower accents and thick white collar and cuffs. We see that echoed almost immediately after when her parents, Morticia and Gomez, escort her to Nevermore Academy, but the girlish dress is now covered with a sleek, silk coat. It's a simple but bold statement.
"I really wanted her to have a young elegance that set her apart from fussiness," she says. "I have always gravitated towards that early '60s cleanness in design which that coat is patterned off of. Jenna is quite petite, so I didn't want a coat that just looked like a big coat. I wanted it to look like an extension of her dress, so I found a silk fabric with small, white flowers that evoked the dress but was more refined."
Catherine Zeta-Jones pops up here and there throughout the first season, and we immediately notice her shape. It reminds us of the first time we saw Morticia Addams–maybe embodied by Carolyn Jones or Anjelica Huston–but Atwood ensured that Zeta-Jones' look was her own. What is the key to ensuring the perfect shape?
"I made that dress in two or three materials initially, because I wanted to take it away from the old version of Morticia while still have it serve as an homage," Atwood reveals. "With the silhouette, I added an insert below the bust to the high hip that you don't really see. It's black on one side and silver on the other and we twisted it so it helped exaggerate the shape that Catherine has with light and shadow. We got away from the super V-neck that earlier Morticias had by using a neckline that is a little softer but richer with Catherine's face. My first meeting with Catherine–this is the first time that I've worked with her since Chicago–was on Zoom, and she was prepared to talk in full Morticia hair and makeup. She's that girl, and she's so elegant and prepared. I love how prepared she is–she's a super-pro."
Gwendoline Christie's Principal Weems harkens back to a glamorous screen presence of the 1960's. Christie knows how to embody clothes and project a character through them, and Atwood gave her a lot of stiff-collared jackets that frame her face. I was thrilled when Atwood named the specific reference that I thought of when I saw Christie wearing a green coat in the first episode.
"I am obsessed with jackets and collars on costumes," she says. "It's very important part, especially because, a lot of the times, we only see actors from the neck up. When I met her, I had this idea of this Hitchcockian, Tippi Hedren character. I had a poster in my apartment in London that was a French version of The Birds. Tippi was only in the corner, but this pistachio colored jacket was what she was wearing. I showed it to Gwendoline in a meeting that I had with her, and I told her that I couldn't get it out of my head. She was so excited, and she embraced the whole feeling of shape and costume. We did spin-offs and variations of it the entire season. No matter where people are in the world–rich or poor–there are always people in a small town who never get to the big cities and they embrace style in a unique way that doesn't exist in the world that they came from. I personally have always connected with that, and I felt like Principal Weems was that character. She is in this small town, but she has her own chicness. Gwendoline is so elegant, and she knows how to wear a costume."
When Christina Ricci's Marilyn Thornhill introduces herself to Wednesday and Enid as their den mother (and botany professor), the camera lingers on her red-orange boots. We then notice her forest green cardigan and accents in her hair and glasses. It's very cohesive. Everything Thornhill assembles on her body feels like a packaged ensemble as if she has to wear the same accessories with the right skirt or top. She looks like a plant herself, but we might not know what powers she possesses.
"I figured that she was a nerdy plant lady," Atwood says, with a quiet laugh. "Christina and I talked about it in out fittings about where she was going with the character. I had a lot of vintage stuff and even some new stuff that looks vintage in the current season. We figured that she was a person in her own time in this odd town. You feel like Thornhill has probably looked that way their entire life in her own way. You know there are kids who had their own sense of dressing but it's not fashion yet. I thought, with Christina, that's where I wanted to start from, and she is an actor who comes in with a lot of ideas. The boots were script, and we were lucky enough to find a pair that we could make the right color of red because that shade isn't out there."
I would want to snag so many things from this first season. Maybe Tyler's maroon apron from The Weathervane? But I settled on Pugsley's sweater since the stripes were the first time that his shirt didn't look like they belonged to a referee. What would Atwood snag for herself?
"I'd probably take elements from Wednesday's school uniform," she ponders. "I love the jacket a lot. Whenever I work with Tim, I try to make some things look like drawings, and I had a knitter figure out a way to make the stripes on Pugsley's sweater so they weren't just bumblebee stripes. I want things to look like they aren't mass manufactured."
Wednesday is streaming now on Netflix.