After just a few short days, my jaunt to Toronto was coming to an end. I could've spent another week at TIFF and not come close to seeing everything that was playing there. One of the great thing about attending this festival is that there is always something playing at any time.
If you would like catch up on some of my coverage of this year's festival, you can read my diary entries here and here, and you can read about the In Conversation with…Pedro Almodóvar presentation here.
Solo
It was another early day for me as I scooted to Scotiabank to see the first press screening of Sophie DuPuis' Solo, a vivacious drama set in the Montreal drag scene. Théodore Pellerin's Simon is an up-and-coming talent at one local bar. With his long, blonde tresses and kinetic dance skills, it's no wonder that he has made a name for himself in such a short time. When Félix Maritaud's Olivier joins the roster, he and Simon quickly fall into an obsessive love affair.
Simon and Olivier's performance styles differ greatly: Simon flirts with the audience in a playful manner while Olivier feels more dangerous–his bare, muscled chest exposed in a wide corset during one of his first performances. Simon is excited to introduce his new paramour to his parents and, especially, his sister, a costume designer who is thrilled to create garments for his brother's performances. The pair begin performing exclusively with only each other much to the delight of the regular audiences.
Slowly but surely, however, Olivier begins to take a firm hold in every aspect of Simon's life. He makes snide comments about how Simon performs or will insist that he has more talent. Before Simon realizes it, other queens at the club also turn on him, and a blowout fight backstage will make you squirm in your seat with how raw it gets. Drag is something that Simon takes a lot of joy and pride from so Olivier's small, nasty barbs begin to take hold just as Simon is trying to reconnect with his opera star mother (who happens to be passing through).
Pellerin offers a free, bare, and sensitive performance and Maritaud is a sneaky, untrustworthy partner without making him a one-note villain. Solo is an emotional ride with strong performances packing the dressing room (the best scenes take place back stage in varying stages of makeup and dress). Solo's passion comes through like a glittery pit of need–it's All About Eve meets Showgirls with a dash of glitter and crumpled one dollar bills.
I was so pleased to see not one film about drag at TIFF but two. Between Solo and Unicorns (you can read my review here!), fans of the form of drag are being well fed. With so much bullshit legislation being introduced and covered in the media, I was glad two see them included in TIFF's programming.
His Three Daughters
No movie or television show will fully echo how you will feel when you lose a parent. They can be use tremendous tools to relate to and guide you, but experiencing grief like that will be a singular journey to take. Azazel Jacobs' His Three Daughters is a fraught, gorgeously complex drama. As someone who has lost both of his parents (one suddenly, and one more expected), I can say that Jacobs' film taps into the uncertainty, dread, and frustration that comes with…the waiting. Featuring a mighty trio of performances in Carrie Coon, Elizabeth Olsen, and Natasha Lyonne, His Three Daughters is one of the most well-acted films of the year.
I knew Daughters was going to be for me because it opens with an aggressive monologue being hurled by Coon. She plays Katie, the eldest, who is trying to get all of the "business" taken care of: getting a DNR signed, writing the obituary, or working with the nurse who comes in periodically. She does not appreciate that Rachel (Lyonne) is constantly smoking weed inside the Bronx apartment, especially when their father is mere feet away. Olsen's Christina, the youngest, lives a seemingly perfect life somewhere in the Midwest.
Jacobs creates a claustrophobic atmosphere (we barely leave the apartment) without making it suffocating, and the dialogue is spikey and explosive even if we are talking about, say, paperwork or deadlines. Everyone is going to talk about who is the "MVP" of the film, but Coon, Lyonne, and Olsen gel so well that I can't help but say that one can't survive without the other. The more Katie pushes, the more Rachel retreats and the more Christina tries to keep the piece. You begin to wonder if you see yourself in these women, and what stage of your life you will relate most to when your parents pass. I was blown away by Jacobs' humanity and honesty. I cannot wait to see it again.
Strange Way of Life
One of my most anticipated events at this year's TIFF was the In Conversation with… series, because they were chatting with one of my all-time favorite directors, Pedro Almodóvar. His latest short film, Strange Way of Life, was going to be shown accompanying a talk with TIFF CEO Cameron Bailey. I love how measured and thoughtful Bailey's interviews are (I attended his mega-insightful talk with Taylor Swift last year), so I was anxious as hell to get a ticket for this talk.
Since I knew that it was a general admission event, I wanted to make sure that I got a good seat. It was in the mid-afternoon so it was too late for me to grab food, so I decided, sans book, that I would just go to the TIFF Bell Lightbox and wait outside the theater–surely, I was too early.
Imagine my surprise when there were at least 20 people ahead of me. I was relieve that I didn't wander around too much. I was delighted to see Roger Ross Williams walking out of a packed screening of his latest film, Stamped From the Beginning. The crowd eagerly took pictures with him, and I could tell that they were excited about his latest project. I will be keeping my eyes out for that one.
Since I cover shorts for AD, I wrote up a separate piece about the film, and you can read about it here.
Lee
I was fortunate enough to nab a ticket to the world premiere of Ellen Kuras film, Lee, starring Kate Winslet. Back to Roy Thomson Hall I went! Funny enough, I was sitting in the exact same row in the exact same section where I watched Dumb Money the previous day.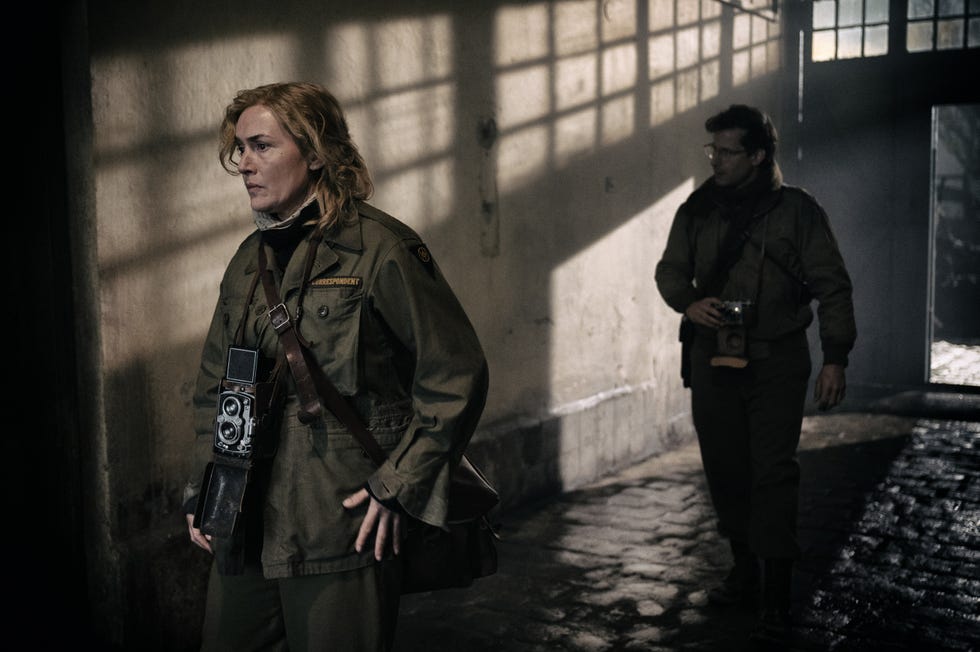 I have seen Lee Miller's photographs before, but I had no idea that she was the person behind the camera. Her photographs of the end of the Holocaust and the liberation of Paris are some of the most familiar whenever you study the second world war. At the center is the glorious Winslet, an actress whose nerve and tenacity are perfectly aligned with someone like Lee Miller.
Kuras (working with a script from Liz Hannah, Marion Hume, and John Collee) does not show us Miller's days as a model but instead begins the film at a perilous in-between period for her. 'I've been the model. I've been the muse. I've been the ingenue. But I was done with that. I was good at drinking, having sex, and taking pictures. And I did all three as much as I could,' she says at the start of the film before she meets and falls in love with Alexander
The film opens in 1938 as Hitler's rise to power feels like a distant probability–there's a lot of "well, that won't happen"-esque chatter. We bounce back and forth between then and a conversation in 1977 between Miller and Josh O'Connor's Antony, an interviewer chatting with the photographer in her home. O'Connor isn't in much of Lee, but he brings a bemused curiosity to his scenes.
Miller joins Vogue in 1940 under the direction of Andrea Riseborough's Audrey Withers (pure camp), but Miller isn't eager to bask in the glory of her modelling days. She eventually wants to document the war in order for her life to have some purpose–even though she is living in Europe she has to use a loophole of being American in order to be sent into battle. Miller isn't afraid to go into rooms where she is told that she doesn't belong to show the ugliness of war.
Lee's best section is the last third when we learn how Miller's trauma fuels her determination and it's when we see her take photographs in concentration camps after they are liberated. Winslet is fantastic, and she wields Miller's prowess with succinct cockiness and never sacrifices vulnerability. This is a role that she couldn't have played when she was in her thirties.  This project has been in development since 2015, so it's easy to see how Winslet was born to play Lee Miller.
Despite its conventions, Lee is strong example of the determination to do good.
The Holdovers
On my final morning at TIFF, I planned on only seeing two films. I am super paranoid about getting to the airport, especially because I had to pass through customs. Unfortunately, I slept in and missed the Olivia Colman/Jessie Buckley reunion in Wicked Little Letters, a film by Thea Sharrock. I ran into Awards Watch's Erik Anderson and Ryan McQuade on the way to the Scotiabank Theatre, and they told me what a fun time it was.
When I glanced at the programming to see where Alexander Payne's latest film was playing, I saw it was in the same theater that I saw Solo. I got in line and immediately was worried since I was in the second batch of stanchions with other members of the press. What if I couldn't get into one of my most anticipated films of the festival?
Luckily, I got a seat in the second row.
Payne's film is, for me, right up there with Sideways. It is a film about crawling out of your own loneliness, and I adored Paul Giamatti, Dominic Sessa, and, especially, Da'Vine Joy Randolph.
Set in 1970 as Christmas break looms, Sessa plays Angus Tully a student at the illustrious Barton Academy. Giamatti is his Paul Hunham, the barb-tongued professor who refuses to allow his privileged students slink by because their parents are rich. This year, Hunham is assigned to keep watch over any students who are "holding over," or unwanted a Christmastime. It could be as innocent as a child's parents don't have the money to bring them home or, in Tully's case, his parents would rather he not return so they can finally have time alone. If those feelings of loneliness weren't enough, Hunham is the type of teacher who assigns work during break so your education doesn't lapse in between batches of Christmas cookies.
I have missed Giamatti in a juicy role like this so much. Payne embraces Hunham's curmudgeonly nature but his acerbic delivery is as sharp as ever. I am glad that Giamatti has been cashing in with those Verizon commercials, but he deserves material like this for the rest of his life. Randolph broke my heart as a grief-stricken mother who is also stuck serving the brats of Barton. She has always had such a sturdy, reliable presence, but her performance is shaded with warmth, sadness, and regret. She's dynamite.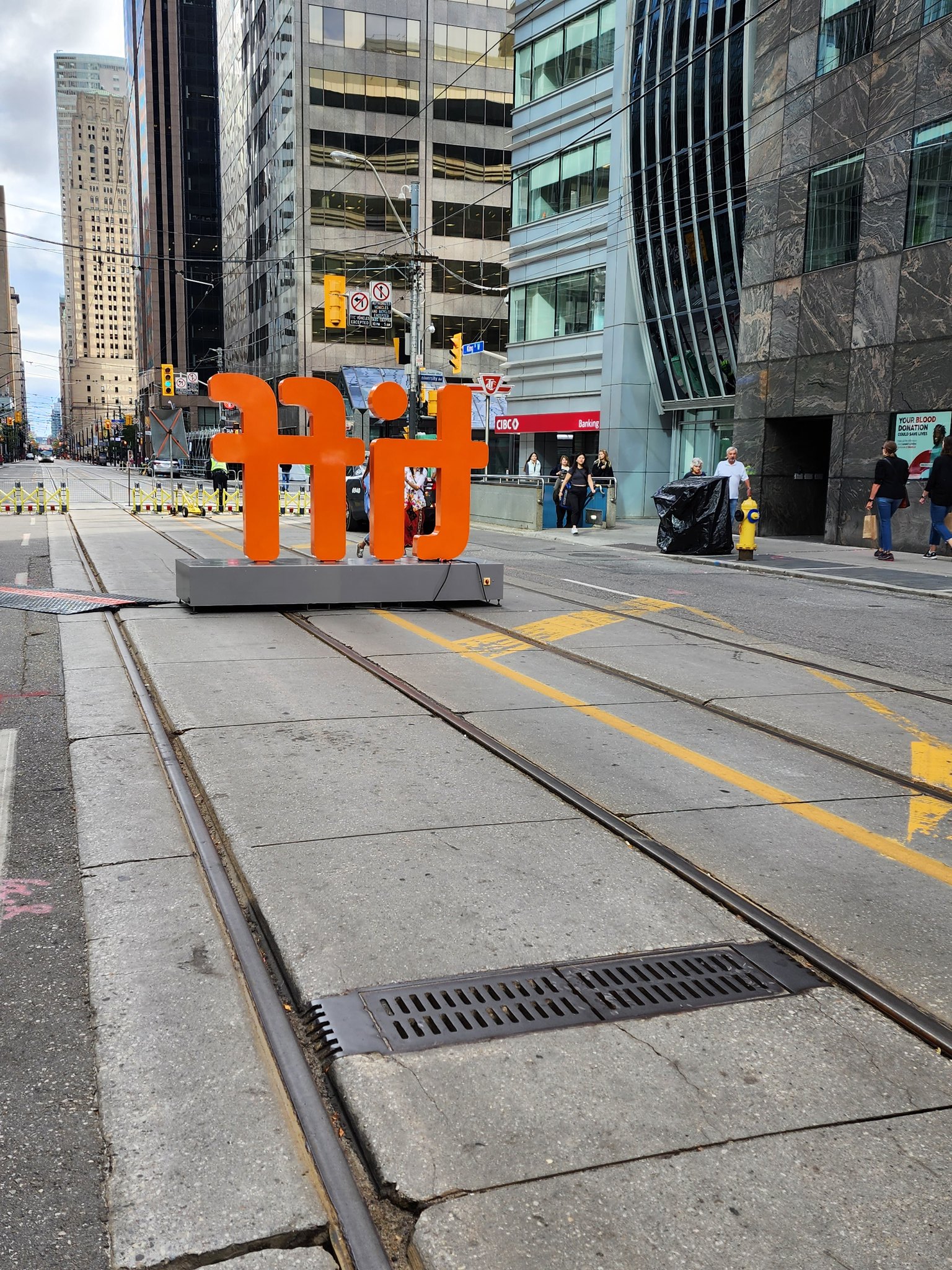 I knew that The Holdovers would be ruthlessly funny and tug at my heart, but I didn't expect it to showcase that loneliness we all feel but never want to talk about Sessa's Tully is at that fragile, precarious age when we are about to take flight as a young adult but we are afraid to take the leap. His family's circumstances are something that he keeps hidden, but Hunham might be the one person he can truly let himself be true with. The Holdovers has wit to spare but an overwhelmingly big heart. I cannot wait to see it again.
My second trip to TIFF came to a close on a high note. Last year, I had an unfortunate return back home, but that was just because I hate flying and I opted to get home faster. This year, it was just as exhausting, and I wish I could've seen even more films. This year's festival flew by.
Until next time, TIFF!