I've always admired Atlanta's Out on Film from afar. I have never been lucky enough to attend the festival, but I was thrilled to have an opportunity to watch some of the short films on this year's slate. An Oscar-qualifying film festival, Out on Film will catapult the winner of its short film award into consideration for the 96th annual Academy Awards. Beginning October 2, you will be able to stream the festival's short film offerings.
Take a look at some of the highlights of this year's festival!
Sissy
In the opening moments of Caleb Harwood and Simon Paluck's Sissy, I knew queer people, both young and those looking back, would see themselves in the young person at the film's center.
A young person (simply named The Child) is looking through his mother's jewelry box. I remember doing that as a kid out of mere curiosity–there was something about the silence of being in that room that I distinctly remember. The Child is trying to remember something or latch on, but we aren't sure what it is yet.
At school, The Child is quiet and tends to their drawings, but a pair of boys tease them. They tug on their long hair before dismissively saying, "You look like a girl." At home, The Father tries to persuade The Child to put down their artwork and watch a football game with him, but they show no interest.
A lot hangs over our heads throughout Harwood and Paluck's film, and we are immediately drawn in. So many children just want to be told that they are loved and that they are valid, and they don't necessarily need those specific words as encouragement. What I didn't expect was a small moment with The Father as we see his grief. There is a lot of unspoken pain, but it never weighs us down. These characters can see a glimmer of hope through acts of recognition and love. It's a short that expresses itself with a lot of passion.
Forgiving Charity
Jamin Scotti's Forgiving Charity does not shy away from high emotions like grief, guilt, and regret. For some couples, escaping a messy past is easier said than done, and the fear of rejection from a loved one can knock our mental health off balance.
Charity and Day drive to a beach and look out on the water. We can tell a difficult conversation is about to begin, but the less you know about what Scotti is about to present, the more you will respond to his film.
Day is a constant for Charity, especially because Charity's past is something that, I'm sure, a lot of people have judged. Scotti cleverly uses editing to push us forward and back as the score colors the anxious state of Charity's mind. When a disruption in their lives changes everything, Charity must find her own strength. I know I am speaking in generics with this short, but I was bowled over by how honest it was.
Motel Room
Motel rooms hold many secrets. The long, outdoor hallway stretching through the night in the introductory moments of Bradford Lipson's short is curious. A woman named Crystal has settled inside room 229, but it feels more like a home to her. I could almost smell the stale cigarettes and the cheap perfume.
Based on true events, Lipson's film introduces us to a sex worker's space before we hear a knock at the door. A father and son stand at the threshold, and the father (played by David Gianopolous) clearly has a past with Crystal. Instead of paying for Crystal's time for himself, however, he offers up money so his son, Sevag, can finally "become a man." This is a trope that we have seen in many films and heard about in real life, but Lipson's film takes us in a new direction. It's fresh and sensitive.
Crystal does offer her services, but she can tell something else is up. After Sevag puts a stop to them having sex, he admits that he has a crush on a jock at his high school. "Armenian boys can't be gay," he tells Crystal. Over the course of their paid time together, Crystal doesn't just encourage this young man to admit to being gay, but she gives him room to speak openly about his feelings for, probably, the first time in his life. Room 229 holds many secrets, and we know that Crystal will hold onto Sevag's truth out of respect.
I kept wondering what age Sevag will be when he tells his father the truth. I could've worried about his well-being, but Lipson's direction made me hopeful for him.
Stay
We sometimes never know why we linger in relationships, but King Louie Palomo's tender film, Stay, is a generous exploration of how an encounter can shake up our perspective.
Ivy Diamonds is finishing up a national drag tour when she meets Ryan, a quiet artist, when they get locked out on the patio of a bar. The connection is instantly flirtatious. Once they free themselves, Ivy (whose real name is Kaleb) lets Ryan escort her around town to find a bite to eat, and Ryan convinces the superstar to come back to his place to stay the night.
Rather than have Ryan be awestruck by Ivy/Kaleb's celebrity, Paloma zeroes in on quieter moments. When Ryan has Kaleb in his bed, he wants to draw him, and Kaleb strikes a pose. "Drop the act," Ryan says before they share a passionate night together. There is a shot of Kaleb's black-tipped fingernails on Ryan's back that visually explores a lot of themes that I can't shake. Fans of Canada's Drag Race will love seeing Kendall Gender play a version of herself on screen, and, as Ryan, Riley Davis offers an emotionally open performance.
Some meet-cutes don't always lead to a big romance, but they can be used to help us discover things within ourselves.
The Places We Won't Walk
Able bodied individuals do not always recognize the struggles of those with disabilities. We can subconsciously be insensitive when thinking of making plans or not taking circumstances into consideration. Adam Tyree's The Places We Won't Walk is an essential glimpse into the lives of one couple as they try to decide if they are going to attend a destination wedding together.
When Trevor and James discover that their friends are getting married, everyone in their friend group is excited. Trevor is immediately concerned, however, because he uses a wheelchair, and he is worried about being on the Hawaiian sand. He doesn't want to be a burden to anyone, and he doesn't even think that he can tell James. "It makes me anxious–it's a big fucking deal to me," Trevor says when the couple finally have a serious conversation about it.
Tyree's film brings up an issue that a lot of couples face but is rarely discussed on screen. Not every person with a disability struggled with the same thing, so we need to keep including it in our media. Trevor is worried that his relationship is going to sink, and Tyree presents us with the importance of communication and having your partner's back.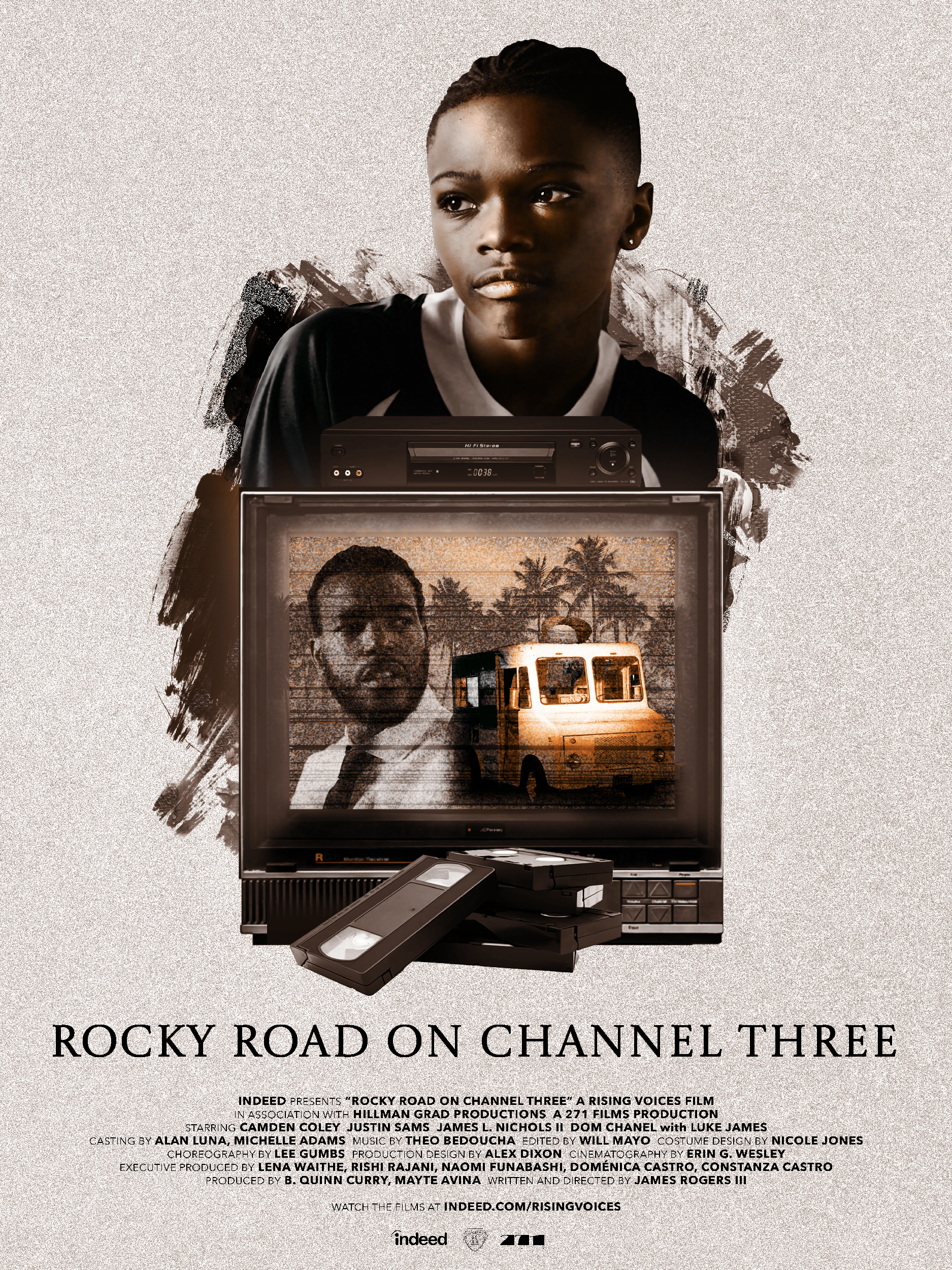 Rocky Road on Channel Three
The logline for James Rogers III's film reads as follows: "A man has a life-changing encounter with an otherworldly ice cream truck." I had no idea what that meant, but it quickly rose to the top spot of all the shorts that I watched from Out On Film.
We see the back of a man as he works at a desk in his home. There is no joy. There is no spark. He discovers an old CD (remember those?) with a gorgeous woman on the cover, and it reminds him of secretly dancing around in his room before his father could find him. When he hears the sound of an ice cream truck outside, he is transported back to that childhood and how he used to hang out in an ice cream truck with his own gay guardian angel, Orion.
Orion would let this young kid hang out in his truck outside a baseball diamond while he waited for his father, Ali, to pick him up. Every day Ali would ask his son if he scored a homerun that day, and his son tells him no. He would prefer to dance, but he could never tell his domineering father that. Being around the colorful, unapologetic Orion is a lifeline for this young man.
Rocky Road is a beautiful film about not losing the innocence of youth and never abandoning your potential. Orion taught this young person that he should never be afraid to love himself, and there moments of pure, raw joy between the younger and older version of this man. We cannot lose that child within us. It is tougher than we give it credit for. I was bowled over by Rogers' film.
Out On Film's short films will be available to stream from October 2 through October 8.