Ben Proudfoot and Kris Bowers' documentary short film The Last Repair Shop is one of the strongest contenders I've seen this year so far (you can read my review here), and I highly anticipate it to be shortlisted for this year's Oscars. The short will be released on November 8, 2023 on the Los Angeles Times YouTube channel and on latimes.com.
Check out the poster, trailer, and full press release below.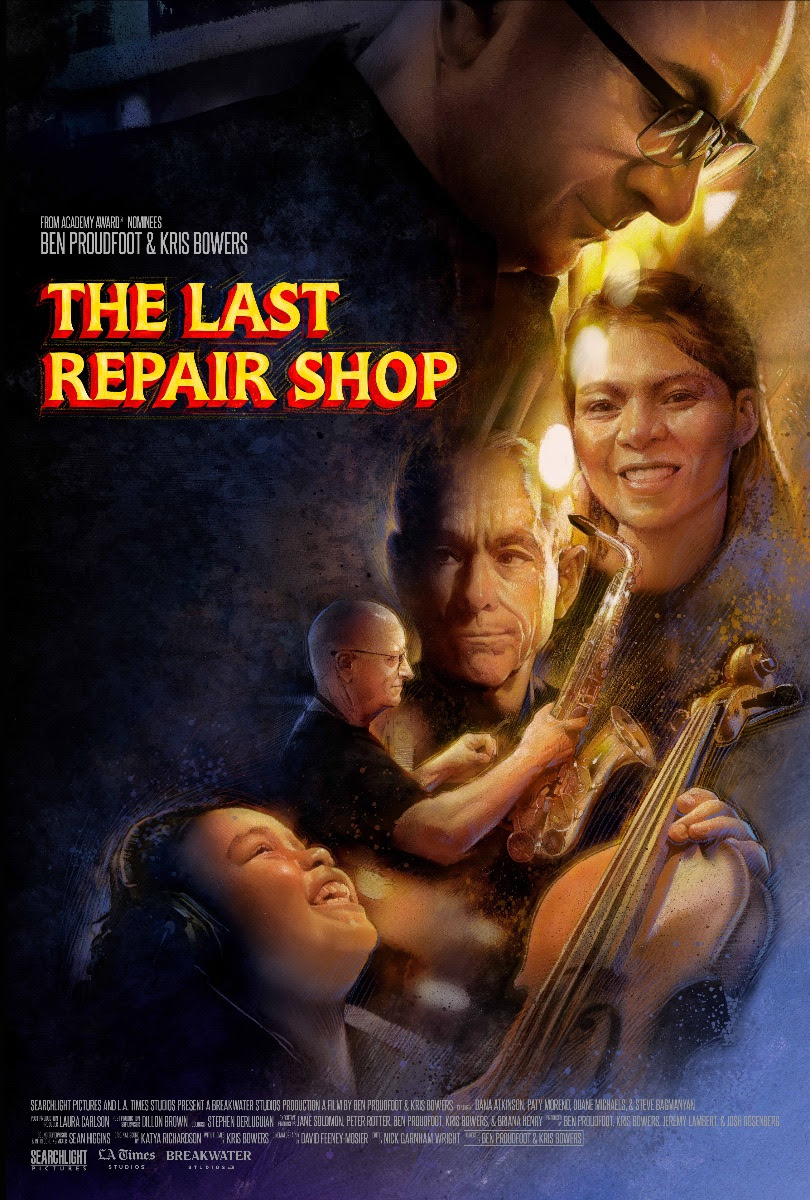 ___________________
LOS ANGELES – With a powerful new trailer drop, Searchlight Pictures and the L.A. Times Studios today announced that they have boarded the award-winning documentary short film The Last Repair Shop produced by Breakwater Studios. The Last Repair Shop will be released on November 8th, 2023, on the Los Angeles Times' YouTube channel and latimes.com, making the film accessible globally – for free. The film just received two Critics Choice Association nominations for Best Short Documentary and Best Score, and was included on DOC NYC's influential 15-film Short List.
Watch the new trailer here: https://www.youtube.com/watch?v=HSLeqTWasO8
"We've discovered such a special film with The Last Repair Shop, and we're thrilled to be working with Ben and Kris. This is the kind of story we need right now, and we are proud to shed light on these extraordinary personal journeys," said David Greenbaum and Matthew Greenfield, Presidents of Searchlight Pictures. The Academy Award®-winning studio is behind upcoming films including Andrew Haigh's critically acclaimed All of Us Strangers, and Yorgos Lanthimos' Golden Lion winner Poor Things.
"We are thrilled to announce the release of The Last Repair Shop as part of our L.A. Times Short Docs series," said Leslie Lindsey, director of development of L.A. Times Studios and supervising producer of L.A. Times Short Docs. "Ben Proudfoot and Kris Bowers are masterful directors who have captured this stunning story about the people whose craftsmanship helps keep instruments in the hands of the city's students. We can't wait for people to see it."
Once commonplace in the United States, today Los Angeles is by far the largest and one of the last American cities to provide free and freely repaired musical instruments to its public schoolchildren, a continuous service since 1959.  From Academy Award®-nominated directing duo Ben Proudfoot and Kris Bowers, The Last Repair Shop grants an all access pass to the nondescript downtown warehouse where a dwindling handful of devoted craftspeople keep over 80,000 student instruments in good repair.
"I found out that Steve, one of the main storytellers in the film, personally tuned the school pianos that I grew up playing and learning on," said Co-Director Kris Bowers, "I had no idea this shop existed until I started making the film with Ben, but The Last Repair Shop became a passionate love letter paying a delayed debt of gratitude to those unsung heroes who gave me and countless others the gift of music. It's not too much to say I owe my career to people like the four repair people in our film."
"Every child deserves the opportunity to play music," said Bowers' Co-Director Ben Proudfoot, "Because music is not only a worthy discipline and sometimes a wonderful career, but it can also be a healing force that can repair our deepest traumas and teach us to play our part. With The Last Repair Shop, we wanted to celebrate that spirit and pay tribute to a truly unique program that has produced countless legends from John Williams to Kendrick Lamar."
Witness the profound life stories of four staff master craftspeople as well as the captivating students whose lives have been transformed by their instrument. In the repair people's stories, music has been the continuous thread that has mended their broken hearts and brought them to where they are now — fixing faulty instruments (some saxophones date back to the 1930s) to get them back into the longing hands of Los Angeles' public school youth.
The deal was negotiated by Searchlight Pictures' Paul Hoffman and Chan Phung and Breakwater Studios' Sam Widdoes.
The Last Repair Shop had its world premiere at the 2023 Telluride Film Festival. It subsequently had its international premiere at the Calgary International Film Festival where it won the Grand Jury Prize for Best Documentary Short. And just yesterday, the film won the Matt Decample Audience Choice Award for Best Short at the Hot Springs Documentary Film Festival. In an early review, Awards Daily said, "The Last Repair Shop speaks to our humanity and highlights how important the arts are to our development, growth, and survival."
Led by the charming general manager, Steve Bagmanyan, the film introduces a technician from each department: Dana Atkinson, in the strings division, who takes us to his personal breaking point as a young man confronting his sexuality; Paty Moreno, in charge of brass and the sole woman in the shop, who chronicles her pursuit of the American dream as a Mexican immigrant and single mother; Duane Michaels, a quirky, self-described hillbilly who fixes the woodwind instruments and shares the rip-roaring tale of how his $20 fiddle took him on tour with Elvis; and finally Steve himself, who learned to tune pianos in America after surviving a harrowing escape from ethnic persecution in Azerbaijan in the late 1980s, a conflict again in the headlines today.
The film blends the unexpectedly intimate personal histories of the repair people with emotional, firsthand accounts from the actual student musicians for whom their instruments made all the difference. Porche, 9, shares how her beloved violin helps her cope with her family's health problems; college-bound Manuel, 18, states that his enormous sousaphone diverted him from the pitfalls of growing up as a low-income kid from Boyle Heights; Ismerai, 15, whose alto sax brought her much-needed discipline and calm; and the bookish Amanda, 17, brought to tears by her profound connection with the piano.
Directed by Ben Proudfoot & Kris Bowers. Executive Produced by Jane Solomon, Peter Rotter, Ben Proudfoot, Kris Bowers, & Briana Henry. Produced by Ben Proudfoot, Kris Bowers, Jeremy Lambert & Josh Rosenberg. Edited by Nick Garnham Wright. Cinematography by David Feeney-Mosier. Original Score by Katya Richardson, with themes by Kris Bowers. Featuring Dana Atkinson, Paty Moreno, Duane Michaels & Steve Bagmanyan. For L.A. Times Studios: Executive Producers Sharon Matthews, Terry Tang, Jason Spingarn-Koff & Leslie Lindsey, Co-Executive Producers Shani Hilton and Nani Walker, Senior Publishing Producer, Karen Foshay, and Associate Producer, Jessica Q. Chen.
###
About Searchlight Pictures
Searchlight Pictures is a global specialty film and television company that develops, produces, finances and acquires motion pictures and series for both worldwide theatrical and streaming releases. It has its own marketing and distribution operations, and is part of The Walt Disney Studios, a division of The Walt Disney Company. Founded in 1994 as Fox Searchlight Pictures, the company's titles have grossed over $5 billion worldwide, amassing 46 Academy Awards including five Best Picture winners since 2009:  Slumdog Millionaire, 12 Years a Slave, Birdman, The Shape of Water, and Nomadland; 55 BAFTA Awards, 32 Golden Globe Awards, and 10 Grammy Awards. Searchlight Television, the division which develops and produces series for streaming, network, and cable partners, earned a Primetime Emmy Award for Best Actress and an additional 5 nominations for its first production "The Dropout" from Elizabeth Meriwether, in partnership with Hulu and 20th Studios.  Searchlight recently released Molly Gordon and Nick Lieberman's award-winning Sundance debut feature comedy Theater Camp; Eva Longoria's Flamin' Hot; Mark Mylod's global hit The Menu; and Martin McDonagh's Academy Award nominated and BAFTA winning The Banshees of Inisherin. Upcoming releases include Taika Waititi's underdog comedy Next Goal Wins; Yorgos Lanthimos' eagerly awaited Golden Lion winner Poor Things, starring and produced by Emma Stone; and Andrew Haigh's critically acclaimed romantic drama All of Us Strangers.
About L.A. Times Studios
L.A. Times Studios, a division of California Times, produces a variety of critically-acclaimed audio, video and live event projects. We develop projects that are grounded in editorial integrity and driven by the power of storytelling. We collaborate with a variety of partners, internally and externally, on both original productions and branded entertainment. The Studios group is platform-agnostic and pursues compelling narratives and conversations across a variety of media.
About Breakwater Studios
Founded in 2012 by Forbes 30 Under 30 entrepreneur and Academy Award®-winning director Ben Proudfoot, Breakwater Studios has been a pioneer in the world of the short documentary, connecting with millions of people around the world through their humanist, high-quality films. The studio's work has been recognized by the Academy Awards®, The Emmys®, The Peabody Awards, The James Beard Awards, the Sundance Film Festival, the Telluride Film Festival, the Tribeca Film Festival, and SXSW among others. Learn more at www.breakwaterstudios.com
About the Directors
Ben Proudfoot is an Academy Award® winning short-documentary director and entrepreneur, the creative force behind Breakwater Studios. The studio's work has been recognized by the Academy Awards®, The Emmys®, The Peabody Awards, Critics Choice Documentary Awards, The James Beard Awards, the Sundance Film Festival, Telluride, and the Tribeca Film Festival among others. Proudfoot was named one of Forbes "30 Under 30" for his leadership and innovation in the brand-funded documentary space. He hails from Halifax, Nova Scotia, and is a University of Southern California graduate. Proudfoot is an accomplished sleight-of-hand magician and has performed at The Magic Castle in Los Angeles.
Kris Bowers is an Emmy® Award-winning, two-time Grammy®-nominated and Academy Award®-nominated filmmaker and composer. A Juilliard-educated pianist, Bowers creates genre-defying music that pays homage to his jazz roots— with inflections of alternative and R&B influences. Composing the original scores for Best Picture GREEN BOOK and Netflix hit QUEEN CHARLOTTE among many notable credits, Bowers has established himself at the forefront of Hollywood's emerging generation of composers. Bowers is currently gearing up for the release of some of his most highly anticipated projects, including Ava DuVernay's ORIGIN later this year, Warner Bros. THE COLOR PURPLE, to be released in theaters December 25th and BOB MARLEY: ONE LOVE due early 2024. As an accomplished filmmaker, Bowers has multiple projects in development through his Et Al Studios Productions. Most recently, he co-directed the documentary THE LAST REPAIR SHOP alongside Ben Proudfoot, releasing this November by Searchlight Pictures and L.A. Times Studios. Previously, Bowers garnered an Oscar nomination for "Best Documentary Short Film" for his film A CONCERTO IS A CONVERSATION (2020), which he also directed alongside Ben Proudfoot.