Who knew a glass of milk would lead to such a love affair?
Every time a character closes a door throughout Showtime's masterful and heartbreaking limited series, Fellow Travelers, people wonder what is happening. Is it just another typical meeting about policy between Roy Cohn and Joseph McCarthy about how to weed commies out of America? Or is something more private–like a sweaty, illegal tryst–transpiring? The Lavender Scare isn't as prominent when it comes to telling stories about queer history or trauma, but what happened in Washington D.C. planted seeds for discrimination (both in policy and in everyone's homes) for decades to come. Featuring explosive chemistry between Matt Bomer and Jonathan Bailey, Fellow Travelers is not just essential for how it shows that historical, prejudiced seedling but for how it presents the simmering rage that will never be extinguished.
Bomer's Hawkins "Hawk" Fuller, a respected war hero turned D.C. fixer, is immediately drawn to Bailey's idealistic and God-fearing Tim Laughlin when they run into each other at a bar on election night in 1952. Hawk is amused by Tim's seriousness for aforementioned glass of dairy when everyone else if downing whiskey, and his eyes quickly look Tim up-and-down. We flash back and forth from the early 1950s to the mid 1980s as Hawk is celebrating his new post in Milan with his wife, Lucy, played by Allison Williams. At the party, Hawk's old pal, Marcus (a terrific Jelani Alladin), informs him that Tim is "organizing his life…settling things" in San Francisco, and, unfortunately, we all know what that means. It doesn't matter how far you run upstate or how much Ralph Lauren you buy in your perfect home, the truth will come find you. Hawkins Fuller is about to take the emotional journey he has been avoiding his entire life.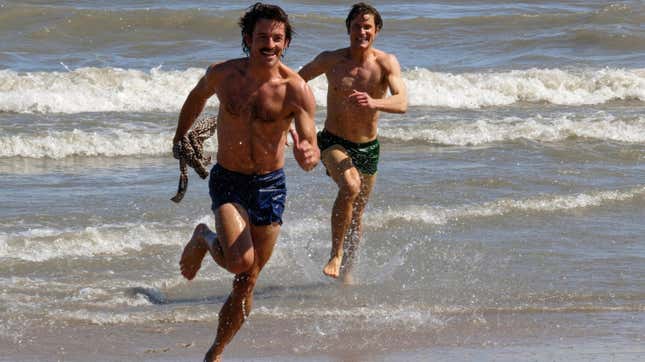 Hawk and Tim's affair is immediate and remarkably sexy. You have never seen gay sex portrayed like this on television before. Director Daniel Minahan stages their first encounter with such ease and care, but allows their natural, animalistic magnetism shine. Tim is eager to be a good student, and Hawk is more than willing to be his teacher. There will be a lot of chatter about the graphic sex scenes, but I never felt as if they were trying to be gratuitous or to be shocking. These men have to keep everything buttoned-up and have to quite literally watch every gesture, every step. When the door closes and they feel safe, they are allowed to have their loud, rough sex, because they don't know when they are going to have it again. Sex is a survival tool to get through to the next encounter. Sorry, Bridgerton fans, Fellow Travelers has you beat in the hot sex department.
What is so fascinating about the relationship of Hawk and Tim is how we witness their lives shifting from the early '50s to the '80s. Tim's doe-eyed nature is, to Hawk, a liability when it comes to living his life as a full-fledged adult. The younger man wants love but is conflicted about his relationship with God while Hawk will stop at nothing to keep himself out of harm's way. Tim is shown was palpable, physical love feels like and then he has to fend for himself when living openly isn't an option for Hawk in the '50s. Every time we see Hawk in San Francisco visiting an ill Tim, there is a yearning in Bomer's eyes. The sun seems to shine on the openly gay men in San Francisco even though the community is steeped in turmoil. Could Hawk have chosen a different life and ended up happier as he grows older?
Bomer has never truly been given credit for his ease on camera, and he's extraordinary as a man who pulls more string than we even know about. Hawkins Fuller reminded me of Clive Owen's Max from 1997's Bent in how they are both men determined to hide their queerness as long as possible in order to survive. The circumstances are, obviously, incredibly different, but it shows how shame and guilt invade our hearts and souls as we try to escape the judgement of others with as much dignity as possible. Bomer commands the screen in his best performance to date.
Bailey–with his floppy hair, thick, black glasses and well-crafted appearance–exudes excitement who is conflicted between what he has been taught and what his heart and loins want. I can't imagine how many Tim Laughlins were working in Washington D.C. during the rise of McCarthy's reign, but he never lets go of that exuberance. In scenes from the '80s, Bailey is almost unrecognizable with his stringier hair and worried expression. He will break your heart.
Williams, as Lucy, never falters, and Travelers is proof, once again, that she is one of our most reliable actors. Lucy never shows all of her cards and she doesn't always reveal what she is thinking. Her domestic life with Hawk is one that she values, but she longs for every fraction of his heart. One of my favorite scenes comes in episode five when she talks with Hawk about her relationship with her brother, Lenny. Alladin's performance will keep you drawn in. There is something about his stare that transmits intelligence so wildly, but he can never fully express it whenever he wants because of the color of his skin. He could be saying nothing, and he keeps us at rapt attention. With his heavy-lidded eyes, Will Brill brings a slithery nature to Roy Cohn. We have seen many characterizations of this vile man (Angels in America will surely be a reference for a lot of things in Travelers), and Brill really gives you someone to root against.
Fellow Travelers pulls us into a world where one phone call could shatter the lives of many. There are many instances where people in power refer to gay people as "them" and deviants, and we are reminded of the current political climate. It's an elegantly drawn, sexy romantic thriller about an unexpected, all-consuming love. Don't let those doors close so you can hide. Kick them off their hinges
Fellow Travelers drops episodes weekly on Paramount+ and Showtime beginning October 27.