When Eva Longoria started Desperate Housewives back in 2004, she was the most unknown of the four leading ladies. She'd mainly been known for a sting on The Young and the Restless, but her Gabrielle Solis made her a household name. Longoria's newest project returns her to her daytime roots for the workplace comedy, Telenovela, but is it a worthy return?
Telenovela is a lot frothier and lighter than anything Longoria had to do on Housewives. I have more experience with spoofs of telenovelas than the actual soaps, so I thought I wouldn't appreciate the humor of the show. To be honest, Telenovela's tone is a lot similar to 30 Rock or Scrubs than anything you might find while scrolling through the channels at random hours of the night. If the first 2 episodes were any indication, the sitcom will focus on the relationships between the actors on the show and it will integrate the high drama from the soap operas.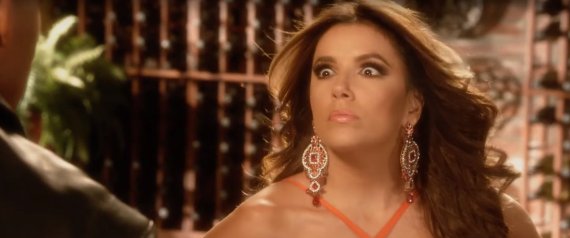 Longoria stars as Ana Calderon, the star of Las Leyes de Pasion, a long-running telenovela where she plays the title character. She is livid to find out that a new network executive has hired her ex-husband, Javier, to join the show even though they had a messy divorce. Ana freaks out even more when she learns that Javier will actually be the love interest of a younger woman. Could they have handled Ana's breakdown a little better? Probably, but the outrage of women being replaced by younger models isn't far from the truth.
Ana's co-workers include a loyal dresser on Pasion named Mia who has her own drama when she sleeps with one of the actors in episode 2. Her gay best friend (because there always has to be one, apparently), Gael Garncia, spends the majority of his screen time being insecure about not being the hottest one in the room and then ripping his shirt open. Bravo, NBC! Bravo!
Did NBC order episodes of this (and the upcoming Superstore) after criticism of their comedy-less lineup? Who knows? While Telenovela might not strive to be high art, who is asking it to go above and beyond? Sure, there is a lot of intelligent comedy out there, but sometimes you just want a show where the laughs are a bit obvious and the guys are pretty to look at. Do you turn on a telenovela for the cohesive plot structure? Didn't think so.