Reality television follows its own rules, for the most part. Sometimes people are edited to look worse, and competition shows have their own ways of generating buzz or twisting the panties of loyal viewers. Last week, RuPaul taunted the contestants (and us!) by announcing that she was going to give a departed queen another chance to click clack down the runway—and stir up the shit, natch.
Not only did a queen return this week (more on that in a second!), but season 4 Miss Congeniality Latrice Royale joined RuPaul in judging this week's mini challenge (Katya's reaction: "It's like seeing Sharon Stone…except, you know, fat and black!"). Ms. Royale donned her prison garb from the challenge she won with Max Mutchnick (man, I gotta re-watch Will & Grace…), and the queens had to slink into some orange jumpsuits for an Orange is the New Black tribute. They have to create an outfit and persona which is pretty hard for some of the remaining contestants since they don't have a personality to begin with. Of all the queens, Ginger's nickname of Wide Receiver is the best, and her dream conjugal visit ("from the NBA…the whole NBA") is the most realistic. These queens must be drooling at the mere sight of a man. Kennedy wins the challenge and it's probably because her prison job is cooking ramen noodles.
So, who returned to the race this week? Fans were confident in their prediction that Trixie Mattel would come back, and she was the one to sashay back into the Werk Room. But wait. Then Tempest Dujour came in. Then Kandy Ho! And Sasha Belle! AndMAXANDKASHAANDJASMINE?! What in GAY HELL is going on here?! All 14 queens strut back to the competition for this season's greatest challenge yet. Each queen will be paired with a not so dearly departed contestant, and they have to perform as conjoined twins on stage. For those who are not fans of season 7 (and there are a lot of bitches out there), you have to admit that this challenge is the best thing RuPaul could have done. It's inspired. Since Kennedy won the mini challenge she got to not only pick her partner, but she got to pair up everyone else. She chooses Jasmine as her running mate, and puts Sasha with Ginger, Trixie with Pearl, Kandy Ho with Miss Fame, Mrs. Kasha Davis with Katya, Max with Violet and Tempest with Jaidynn.
RuPaul spends a lot of time this week talking to the queens about their runway plans, and it appears that a lot of these girls have a thirst to come back. Ginger and Sasha will be joined at the boobs, Katya and Kasha by the vagina, respectively. Jaidynn and Tempest are the riskiest pairing since, you know, since they have about as much in common physically as me and Channing Tatum. Trixie and Pearl want to channel that they are related in "an inbreeding accident." This is the first time that anyone gets to see Ginger sweat since Sasha is too busy chatting with all the other contestants. I just want someone to start belting out "I Will Never Leave You" or "Take Me As I Am" from the musical, Side Show. Is that so much to ask, RuPaul?!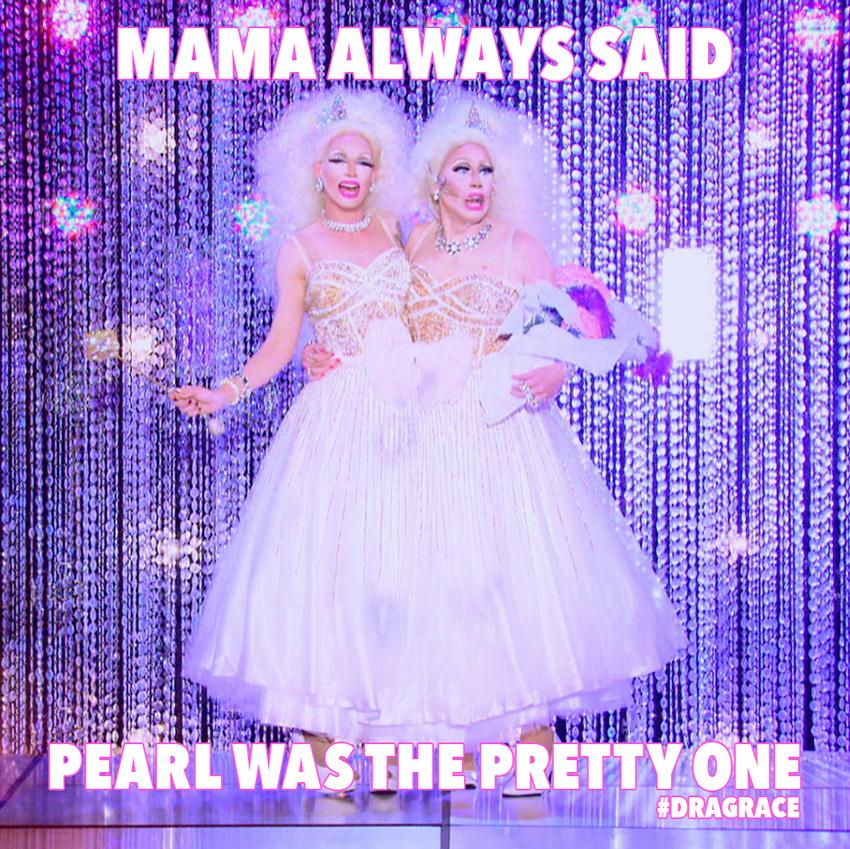 This is the hardest challenge to call so far this season. Pearl and Trixie's pretty/ugly sisters were my personal favorite, and all of the queens did a good job…even Jasmine and Kennedy—they had the most Hilton sisters realness while everyone else tried silly. Will that hurt them the most? Katya and Kasha's Atlantic City/leather skin duo was pretty creative as well. Even though the judges though Trixie out-funnied Pearl, they thought this dynamic duo brought the most laughs and their look told the best story. Pearl won the main challenge and Trixie is back in the competition! Jaidynn and Tempest's uninspired execution lands them in the bottom with Ginger and Sasha. Just when you think you've seen it all, you get the sight of four (yes, four) drag queens performing to "I Think We're Alone Now." This is the stuff of a gay man's Make-A-Wish list. When RuPaul gave her weekly warning to not fuck it up, I had no idea that all four of them would be performing on stage! It was madness! It was hilarious! It was BRILLIANT! Ginger ripped off her own breasts, and Katya described Tempest and Jaidynn perfectly: "They looked like Raven Symone and Larry Bird in a permanent buttfuck position. The most epic lip sync EVER!" Guest judge LeAnn Rhimes will never be the same.
Poor Jaidynn has been in the bottom three for the past 3 weeks, so it's not a surprise that she's sent sashaying away. Then again, Ginger totally annihilated that lip sync, so she never really had a chance. Does this week's episode inspire you to watch more of this season? A lot of fans have said that this was the first lackluster season in Drag Race herstory, but you have to admit. This week was pretty damn epic.