Ahhhhh, TIFF.
I was so thrilled to come back for my second Toronto International Film Festival, but, like most people, I wasn't sure what the festival would look like with the ongoing strikes. I arrived a day early to make sure that I didn't feel rushed unlike last year when I hurled my bags into my hotel and then hit the ground running. Everything was still being set up, but I was glad to have the time to settle.
My day was starting with the double feature of press screenings of Anatomy of a Fall and The Zone of Interest. I saw other writers online jokingly referring to this as Anatomy of Interest, but I prefer to call it by its proper name–Hüllerheimer in honor of Sandra Hüller's presence in both films.
I woke up early, because this was my only chance to see both films on my short trip. There were public screenings later on, but I definitely wanted to start my TIFF experience this year on a high note. Since it seemed that everyone was going to be at this double feature, I grabbed some coffee and headed to Scotiabank Theatre Toronto…two hours early. Surely, I would be the first in line…but I was the fourth. Everyone clearly had the same idea as me.
As I waited for the film to start, a volunteer came in and instructed us to not leave any seat unfilled as there were about 80 people still waiting to see if they could get inside. Justine Triet's film was easily one of the buzziest films since Cannes, and that excitement has carried through Telluride and now TIFF.
Anatomy of a Fall
Anatomy of a Fall is as good as you've heard that it is, and it is one the most meticulously crafted films of the year. Even though it kicked off my experience at TIFF this year, it stuck with me for the rest of my trip. It will crawl into your brain and take hold.
Hüller plays Sandra, an author whose husband has mysteriously fallen, perhaps, from the attic window of their snowy chalet. Before she is indicted in his murder, Justine Triet's film adds tension into the moments before the trial erupts or Sandra is analyzed in the public eye. There is something about even the interactions between Sandra and her son, Daniel, that feel weighed down with expectation, accusation, and guilt, but Triet makes Anatomy so slippery that we are almost afraid to learn the truth. As the film progresses, we notice that we are watching Hüller's every moment, every breath as if some form of her body will give something away. Have we been spoiled on too many crime documentaries and Reddit threads that we think we can crack the case?
Anatomy of a Fall will force you to look at your spouse in a new way and make you wonder what they might be capable of.
The Zone of Interest
Jonathan Glazer's The Zone of Interest hasn't left me since I departed Toronto, and it's probably my favorite film that I saw at TIFF. A lot has been written about this film as well, but everyone is going to have a different reaction to it. For me, I didn't realize how tightly I was clenching my entire body until the credits started rolling.
A family goes about their daily lives. The kids play in the backyard, the mother tends to the laundry, and the father kicks off his boots outside before entering his home. Slowly but surely, though, the realization kicks in. The father is a high-ranking Nazi official, and just beyond the garden wall is Auschwitz, the deadliest concentration camp during World War II. As the bees buzz and pollinate the flowers, we hear sounds of horror from behind that wall. If we were ignorant, we might think we are hearing the sounds of a regular factory as its workers get through their day, but we hear gunfire, screaming, and, at times, bouts of pandemonium.
Glazer always infuses his films with an unmatched elegance that so many others would try to replicate. The camerawork, from cinematographer Lukasz Zal, is patient and deliberate, and the editing (especially a cut towards the end) made me gasp out loud. Hüller, as the wife to Christian Friedel's Rudolph Höss, is proud of the house she tends to, but it's like she's constantly trying to add more coats of paint to a rotting structure. Zone is placid but horrifying–elegant and essential. I don't think I will ever be able to forget it, and I never want to.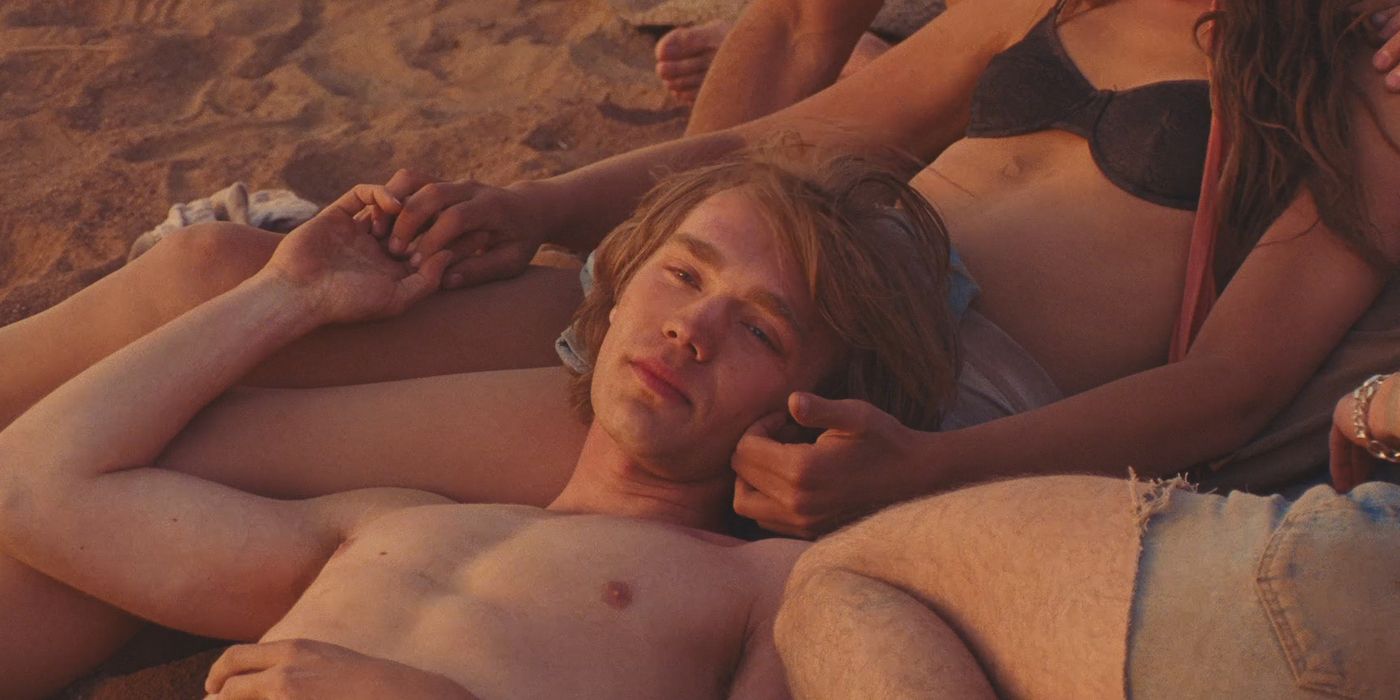 National Anthem
I made a point to try and see as many queer films as I could this year at TIFF (sorry, homophobes!), and the first film on my list was Luke Gilford's rodeo drama, National Anthem. As drag bans stupidly try to pass through state legislatures all across the country, Gilford's film is a middle finger to narrow-mindedness and an invitation to revel in the joys of gender expression.
Charlie Plummer's Dylan keeps his head down as he works his construction job shoveling gravel. The men refer to him as a pretty boy and make casual remarks about his long hair or how he doesn't seem to like it when they talk about sex on the job. After he comes home from work, Dylan tends to his younger, almost-tween brother, Dylan, because their recovering alcoholic mother, Fiona (Robyn freaking Lively!), is using all of her free time to meet men since she isn't getting any new clients in her salon chair.
When Pepe recruits Dylan for a few weeks work at a distant ranch, Dylan's interest is piqued when he meets and flirts with Sky, Pepe's trans girlfriend, when he is washing her horse. Portrayed by Eve Lindley, Sky could've been a pseudo-dream girl figure, but screenwriters David Largman Murray, Kevin Best, and Gilford allow her to almost serve as a mirage and a loving figure for everyone at the ranch known as The House of Splendor. It is a role worthy of Lindley's charisma and talent, and it's a big step forward for her. She should be getting big roles like this all the time. Dylan is transfixed and obsessed with Sky, and her open relationship with Pepe allows for exploration.
With his floppy, cascading hair, Plummer gives Dylan a generous curiosity but resists making him a doormat or too much of a doe-eyed puppy. Something that I noticed during my screening was that a few members of the audience left when certain elements were introduced like when Cassidy meets nonbinary mother hen, Carrie (Mason Alexander Park). Gilford's film is about opening your heart in a place that expects you to hide who you are. Do I know why they decided to leave? Of course not, but Gilford's film is direct and warm and worthy to be talked about.
The Boy and the Heron
One of the most anticipated titles of the entire festival was Hayao Miyazaki's sumptuous animated film, The Boy and the Heron. I will admit that my Miyazaki watching is rather lacking, so I was even more excited to catch onto what everyone loves about his films. The film premiered back-to-back showings on opening night, and I was fortunate enough to snag a ticket to the first showing (Thanks, Matt & Adam!) at the Princess of Wales Theater.
Miyazaki's latest (and final?) film opens with Mahito's mother dying in a fire during the Pacific War in the early 1940s. Natsuko, his soon to be stepmother, announces that she is pregnant, and he is struggling with keeping his mother's memory alive. If that wasn't enough of an emotional toll, there is a pesky grey heron flying around. It turns out that the bird actually has a man inside, and he claims that his mother is still alive. All Mahito has to do is enter a magical realm, and that always goes well, doesn't it?
Heron lingers on questions of grief and growing up, and you will never get the sight of bloodthirsty parakeets out of your brain. If this is truly the director's final film, he ends on a high note.
Dicks: The Musical
First, a note about me attending this crazy-as-shit movie. I was having trouble finding dicks whilst in Canada. I am talking about the musical, you perverts! It seemed that A24's first-ever musical was a hot title, because the tickets to the first Midnight Madness showing of the festival were scooped up almost immediately. I even toyed with buying a cheaper ticket just to get into the room. When that didn't work, I decided to try the rush line for the first time. Since I had a lot of time between The Boy and the Heron, I wandered around downtown, and then I made my way to the Royal Alexandria Theatre.
I assumed that since I was over two hours early that I wouldn't have any trouble being first. Well, I was wrong. I was the fifth person in line, so, clearly, everyone was looking for some Dicks. Thanks to some generous moviegoers, those waiting in line ahead of me were gifted tickets by those who had extra. When I was at the head of the line, a ticket guardian angel in the form of a woman named Dale offered me her extra ticket because her husband couldn't make it. Her only stipulations? I had to sit with her (check!) and chat while we waited to get into the theater (check!).
Dicks: The Musical makes Team America: World Police look like a basement rehearsal of The Sound of Music. Writers Josh Sharp and Aaron Jackson star as Craig and Trevor, the most self-absorbed businessmen in town who are banging as many babes as they can, am I right, bro?! When they discover that they are identical twins separated at birth, they hatch a Parent Trap style plot to get their parents (Nathan Lane and Megan Mullally) back together. Bowen Yang, of course, narrates as God. They agree to swap places and slap on some bad wigs, and Lane and Mullally each are granted full-throated, gleeful musical numbers. I was continuously picking my jaw up off the floor.
This movie goons and bates over every line of respectability, and it doesn't care if you are offended. It's glorious. I've noticed that some reviews have given away some plot points or details, but I won't go further. All you need to know is that Sharp and Jackson got two amazing Broadway actors to scamper around in motorized wheelchairs and chew up food to feed some puppets. I need a 3D release of this movie for the final shot alone…
After the screening, Sharp, Jackson, and Yang appeared on stage to field some questions (a last-minute agreement was made so they could attend). "We didn't think that anyone would watch or ever care," Sharp said after the film screened to wild, raucous applause after inflatable dicks whizzed and bounced through the audience. "It's wild to us that it's in cinemas," he said.
Sharp and Jackson used to perform the original iteration of Dicks (then titled Fucking Identical Twins) in the basement of a grocery store, so it takes every opportunity to go-for-broke. If your movie is called Dicks: The Musical, you can't get blue balls and bail. It will make you slip on your depravity dancing shoes and do a time-step on the grave of virtuous musical theater.
Day one was my busiest day. I said goodbye to Dale and began my walk down King Street to my hotel. There's something magical about strolling down the street at two in the morning on a chilly night in Toronto with thoughts of Sewer Boys in your head…